Rental Rates Strong in County
Wednesday, November 25, 2020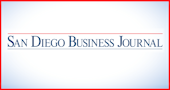 San Diego city proper and its surrounding suburbs are bucking a national trend of dropping rents among most major metropolitan areas.
Since January, rents in San Diego city proper have remained nearly flat while suburban rents have risen an average of 2.3%, according to Apartment List, a real estate listing service.
By comparison, rental rates nationally have dropped by an average of 1.3% with the steepest drop reported in San Francisco, which has seen monthly rents plummet by 18 %.
"San Diego hasn't seen the huge price drops that other cities have," said Rob Warnock, an Apartment List researcher.
"All in all, San Diego is not a city that suddenly got cheaper," Warnock said. "We do see the variant between the urban and suburban areas."
Typically, demand for apartments is highest in big cities, which are employment centers, but the trend has reversed during the COVID-19 pandemic.
Fastest Growth
San Diego is a bit of an anomaly because downtown is more residential than most urban centers and not as strong a job market.
Even so, Warnock said San Diego's suburbs are seeing increases among potential renters as more people work from home and want space to spread out.
Among San Diego County cities, rents grew the fastest in Chula Vista at 5% and La Mesa at 4%.
Chula Vista tends to have lower rents than elsewhere in San Diego County, which Warnock said might explain its higher rent growth as demand for lower cost housing grows during the COVID-19 pandemic.
"It's consistent with what we've seen in other metro areas," Warnock said. "The cheapest places are the first to see this upward trend in rents."
Zillow, another real estate listing service, reported that the average month rental rates in October – the latest month for which it had figures – were $2,333 in the city of San Diego and $2,369 countywide.
Concessions
Attracting and keeping tenants is getting a tad more challenging, according to a separate October survey by Zillow.
Zillow found that rental concessions, such as one or two months free rent, are being offered by more landlords.
In San Diego, 26.1% of landlords responding to the survey said they were offering concessions, up from 21.3 % in October 2019.
Nationally, 33.9% of landlords said they were offering concessions, up from 15.8% in October 2019.
The survey found that nationally, concessions are a key factor in luring renters between the ages of 18 and 25 to move out of their family home to get an apartment of their own.
Zillow reported that 34% of renters in that age group said they moved from the home of a friend or family member and that they got a better deal on their new rental.