Nuvve Will Trade on Nasdaq Through Uncommon Merger
Tuesday, November 24, 2020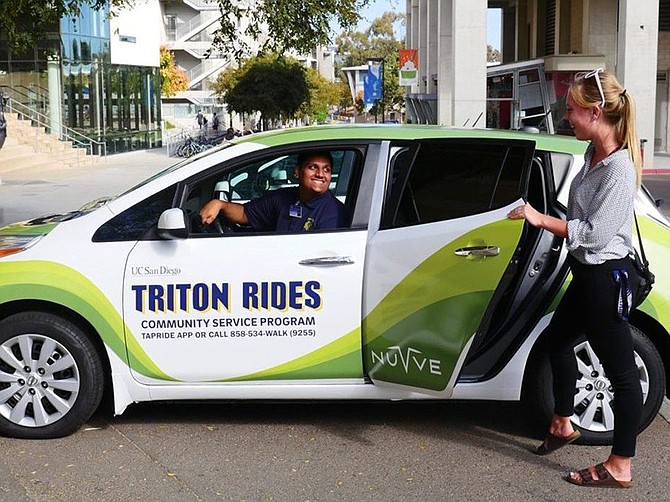 Nuvve Corp., a San Diego-based company focused on "vehicle-to-grid" technology, plans to merge with a Special Purpose Acquisition Company and trade on the Nasdaq exchange.
Founded in 2010, the clean energy company has developed a technology that allows utilities to store vast amounts of electricity in widely distributed electric vehicle batteries.
Nuvve is the latest EV-related company to go public via SPAC merger in order to tap public investment. Others include Nikola Motors, which merged with SPAC VectoIQ Acquisition in June, and Fisker Automotive, which went public in October through a SPAC deal with Spartan Energy Acquisition Corp.
Nuvve has agreed to merge with Newborn Acquisition Corp., a Shanghai-based company that's incorporated in the Cayman Islands. It trades on the Nasdaq exchange under the ticker symbol NBAC and has about $57.5 million of cash in trust.
"Since our founding in 2010, Nuvve has successfully delivered its patented and proprietary vehicle-to-grid technology and services to fleet customers, grid operators, electric utilities and other stakeholders around the world," said Gregory Poilasne, co-founder and CEO of Nuvve.
Decade of Pioneering
The company has spent the past decade pioneering electric-vehicle-to-grid (V2G) projects around the world including Denmark, France, Portugal, Spain and the UK, among others.
In addition, Nuvve has an ongoing demonstration project with the California Energy Commission in partnership with UC San Diego.
The company's technology was developed at the University of Delaware by Professor Willett Kempton, in a pilot project tapping EV batteries as frequency regulation for mid-Atlantic grid operator PJM.
Shortly after, it spun out of the university and has since grown to over 30 employees at its Liberty Station headquarters.
V2G Technology
Nuvve's proprietary V2G technology is enabling it to link multiple electric vehicle (EV) batteries into a virtual power plant (VPP) to provide bi-directional services to the electrical grid in a qualified and secure manner.
Its competitive advantage is that VPP can generate revenue by selling excess power to utility companies or utilizing the saved power to reduce building energy peak consumption.
In terms of growing its business verticals, the company sees strong promise in electric school buses. Nuvve believes it can help make the cost of ownership for electric buses on par with diesel buses, specifically by storing and selling power back to energy system operators.
More recently, Nuvve has been participating in California Energy Commission-funded school bus V2G pilot projects in the Southern California school districts of Torrance and Rialto, partnering with bus maker Blue Bird.
"Nuvve is the only company in the world qualified with several system operators to commercially provide Vehicle to Grid flexibility services to electric utilities and system operators from batteries of electric vehicles," said Marc Trahand, vice president of marketing of Nuvve. "We believe that the integration of bi-directional vehicle-to-grid capabilities will help to stabilize the grid and reduce the overall cost of EV ownership, which will be critical to long-term EV adoption."
Valued at $102M
Nuvve stands to receive more than $70 million in a merger agreement with Newborn Acquisition Corp., a special purpose acquisition company, or SPAC. More than 10 million shares priced at around $10 a share will be available to investors as a result of the merger.
As part of the merger, institutional investors will provide another $18 million in PIPE bridge financing, or Private Investment in Public Equity. Once the merger is completed, Nuvve plans to change the ticker symbol to NVVE.
The deal, which would value Nuvve at about $102 million, is expected to be completed in the first quarter of next year. Under the transaction terms, Newborn must file to incorporate the company in Delaware.
Since 2017, Nuvve has posted operating losses that averaged $5.2 million per year, according to filings with the U.S. Securities and Exchange Commission. But the company forecasts a turnaround starting in 2021, with revenues estimated at $32.3 million and an operating profit of $3.2 million.
Looking forward, Poilasne said he will remain on the combined company's Board of Directors along with current Nuvve COO Ted Smith, adding that the company will be at the forefront of this rapidly expanding global market.
"The Nuvve system has successfully lowered the cost of electric vehicle ownership, while supporting the integration of renewable energy for a scalable and sustainable green society. We look forward to leveraging this business combination to accelerate the commercialization of Nuvve's technology," said Poilasne.