Cesarina Restaurant Owners Grow Brand
Tuesday, November 24, 2020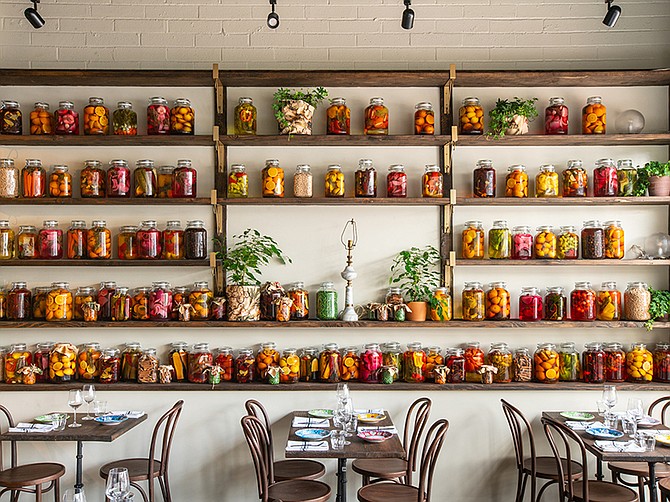 Niccolo Angius and his business partner, Cesarina Mezzoni, are embarking on a multi-phase expansion plan just as a third shutdown of indoor dining has been mandated.
The husband and wife duo, owners of Cesarina restaurant in Point Loma, recently acquired a 1,100 square foot space across the street from their flagship location. The venue will be turned into a commercial kitchen, said Angius, where all of Cesarina's traditional Italian pastas, sauces and cakes will be produced. It will also serve as the company's off-site catering business, he said, which is expected to increase revenue by 20% to 30% in 2021.
In conjunction, an e-commerce portion will also be added to the business, he said; customers will be able to purchase the above-mentioned products via the company's retail site, CesarinaPasta.com, for pick-up only (until further notice). Once the coronavirus crisis is a thing of the past, a separate, as-yet-identified brick-and-mortar location will function as an actual retail shop, said Angius, where customers will be able to physically purchase similar Cesarina food items.
This part of the business should account for 20% to 25% of the company's growth by 2022, he said.
Happiness and Good Food
"Since the pandemic started, I've always looked at it as an opportunity, not as a problem," said Angius. "We stayed optimistic and positive and didn't want to halt our expansion. Cesarina the restaurant is only a small part of the idea that we had in mind since day one, which is a brand that represents happiness and good food. This is what we do in our restaurant. The next step for us to do the same on a retail level, so that people can purchase that same love and quality to take home. This expansion is just another piece to the final puzzle."
All of the Cesarina pasta is made in-house by Mezzoni, originally from Rome and a self-taught chef. On the website, consumers will be able to customize their orders, from the type of dough they want, to the shape they desire down to the filling, said Angius. Every order is made by hand, not with the use of machines, he added. And, 95% of the pasta produced at Cesarina is vegan, as the company only uses semolina flour and water.
The idea, Angius said, is to create a tailored offering made specifically for each client.
"Things are made in bulk here (in the United States), for a lot of people," said Angius, also from Rome. "But at Cesarina, we are making it for one person. It is based on your order – we are producing something just for you."
One-Table Restaurant
Once the commissary kitchen is up and running – and once indoor dining safely reopens – Angius and Mezzoni hope to open a third location, the before-mentioned retail shop. This will be followed by a fourth venue: a one-table restaurant where guests will be able to have intimate meals with the chef.
"What I want to do is have more of a close approach with the guests," said Mezzoni. "The single table will be like my home, where patrons can come into what will feel like my house and I will take care of them personally and show them what my kind of food is all about."
Mezzoni said the idea for the one-table restaurant stemmed from her own upbringing. She said her mother would often host her and her friends, around a large table on which every detail was highly thought out, from the plates down to the actual meal.
The one-table restaurant will sit from six to ten people, Mezzoni said.
Match or Surpass 2019 Sales
Restaurants were hit with a new shutdown of indoor operations in just eight months, because of rising COVID-19 infection rates. But, Angius and Mezzoni are optimistic.
Angius said, despite being closed for three months at the start of the pandemic, Cesarina is on track to match or slightly surpass 2019 sales (if there is no lockdown before the end of the year). While he is quite shocked by this, Angius credits it to Cesarina's $100,000 investment to expand its patio space in the face of the crisis.