La Jolla Medical Building Transformed
Monday, November 23, 2020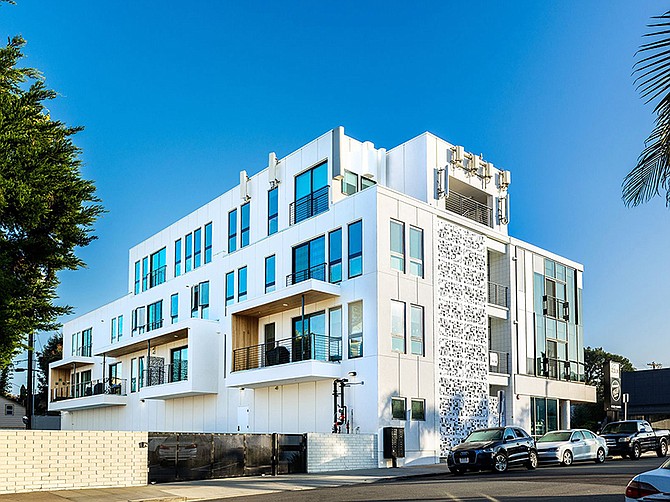 Growing up in La Jolla, Russ and Scott Murfey would often drive by a medical office building at La Jolla Boulevard and Nautilus Street.
At one point, their dentist even had his office in the building.
Over the years, the Murfey brothers, watched as the four-story building fell into disrepair and neglect through a succession of owners.
"It really was a detriment to the community," Russ Murfey said. "It was an eyesore."
The Murfey brothers set out to buy the building at 6902 La Jolla Blvd. soon after forming their contracting business, Murfey Company, in 2009.
After several failed attempts they finally got their chance in 2017 to acquire the 21,531 square-foot former medical building, which they renamed The Collins, and an adjacent retail building of about 6,000 square feet, which they renamed Windansea Commercial Center for the beach that's just a block away.
They acquired The Collins for $6.1 million and the Windansea Commerical Center for $3 miillion, Russ Murfey said.
Real Quality
The commercial center required a minimum of work- new paint, new landscaping, new signs and the new name.
Renovation of The Collins was far more extensive, although the Murfey's declined to say what it cost.
Built in 1964, "That building was really well constructed," Scott Murphy said. "The bones of the building were really quality."
"A classic, mid-century building," was how Russ Murfey described it.
"We were able to put a 21st Century twist on it and modernize it, renovating the upper floors to residential," Russ Murfey said.
The brothers opted to turn most of The Collins into 15 apartments because there is a shortage of rental housing in La Jolla that most people can afford, according to Scott Murfey.
The apartments range from about 600 square feet to about 1,100 square feet with monthly rents of $1,995 to about $4,000, Russ Murfey said.
The Look
"For us to be able to provide some housing in La Jolla was a big deal.
There's not a lot of rental housing that's new in La Jolla," Scott Murfey said. "Just because the land's so expensive, it's usually just condominium-ized."
The top floor of the building was remodeled into a law office and 5,054 square-feet of retail space on the ground floor is leased to Valley Farm Market La Jolla.
Architect David Hawkins, president and principal architect of H2 Architects based in East Village, said the renovation gave the building "kind of a retro modern look."
That involved replacing the old curtain wall that formed the façade with a new one of glass panels and spandrel panels.
The result is a clean white building with variegated panels of white, gray and black.
"We tried to create balconies for everyone, create as many ocean views as possible," Hawkins said. The interior of The Collins was pretty much gutted.
The new apartments "are very clean and modern, very open with as much open as we can get," Hawkins said.
"Doing an adaptive use of an old building, you pretty much take it down to the bare bones if you can," Hawkins said.
Because there were cell phone towers on the building, the electric power had to be kept on throughout construction which proved to be one of the biggest challenges of the entire project, Scott Murfey said.
007
Russ Murfey said he and his brother wanted to building's redesign to resemble the abstract paintings of Piet Mondrian with its geometrical shapes with the sophistication of James Bond.
"We would always think of Sean Connery 007 in his tuxedo and martini," Fuss Murfey said. "It's like Mondrian meeting Sean Connery."
The addition of the market "has just been amazing for the community," Russ Murfey said.
La Jolla has few grocery stores, and the addition of the new one was a hit with neighbors.
A bonus for the Murfey brothers is that they can now point to a place near home when people ask what they do.
"We've been in this business for a decade, but most of our friends and family didn't know what kind of work we did," Scott Murfey said. "Finally, it was nice to do a project in our backyard so people could see what kind of work we do. It probably has helped us with name recognition, here is what kind of project we do."