Five Story Vista Apartment Project Completed
Sunday, November 22, 2020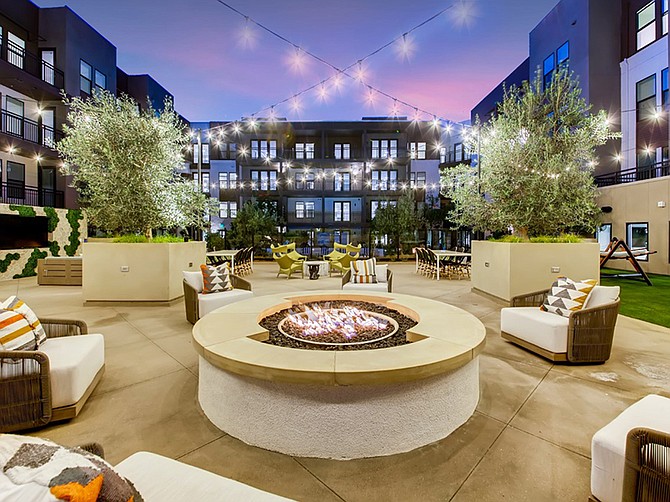 A new five-story apartment building with ground floor commercial has been completed in downtown Vista, adding what city officials said is an important element to the drive to create an energized city center.
In August, StreetLights Residential based in Dallas started leasing in The Rylan with 126 apartments and townhomes at 100 Main St.
"They've developed a project that has a really nice mix of commercial along with residential that will help put feet on the street that will help support our retail at the same time being parking and transit friendly," said Kevin Ham, Vista director of economic development.
"It will be the nicer apartment opportunities for folks to be there during the day and the night," Ham said, adding that The Rylan complements the city's redevelopment of the surrounding area with new landscaping, street furniture, wider sidewalks and street parking.
"The idea is to really improve the area so private investment comes in behind us and invests," Ham said. "It's one of the things we've worked years to really create a vibrant and impactful place for our residents and visitors to come."
A Vision for Downtown
StreetLights chose Vista as the site for its first San Diego County project because the city is so committed to developing its downtown, said Michael Yanicelli, the company's senior vice president of development.
"We were attracted to the positive transformation of downtown Vista over the last few years," Yanicelli said. "They put a lot of time and vision into creating kind of a walkable downtown. That's evident by the businesses that have shown up over the last few years."
The site also is along the State Route 78 corridor – a key employment center from which The Ryan will draw tenants, Yanicelli said.
"We have kind of lifestyle renter that we attract," Yanicelli said.
Apartments and townhomes in The Rylan range from 593 square feet to 1,936 square feet in a mix of 13 studios, 67 one-bedroom apartments, 39 two-bedroom apartments and seven townhomes, Yanicelli said.
Monthly rents range from about $2,000 to about $4,000, Yanicelli said.
The 289,000 square-foot project also has 14,570 square feet of ground-floor commercial space and a two-story parking garage with 208 spaces and 33 parking spaces at grade level.
History Evoked
Yanicelli said that the project was designed to "embrace the public space."
"We don't turn our backs to the street," Yanicelli said, adding that The Rylan also evokes Vista's past as a farming community through the materials, colors and patterns used in the project and landscaping that includes citrus and olive trees.
"We're really tapping into the historic fabric of Vista," Yanicelli said.
Project amenities include an elevated rooftop pool deck, an 8,500 square-foot courtyard with outdoor fireplaces, a media lounge, a pet spa, a coffee bar, coworking spaces, electric vehicle charging stations, a bicycle storage and repair station, a 1,000 square-foot fitness center and a fitness lawn.
Apartment amenities include quartz and granite countertops, kitchen islands, smart home thermostats, walk-in closets, and full-size washers and dryers.
WDG is the design architect, OMNIPLAN is the architect of record, Gillespie Moody Patterson is the landscape designer.
StreetLights' other California development is SkyLoft, a five-story infill project in Irvine with 388 apartments. Yanicelli said the firm also is planning a project in San Diego's Bankers Hill neighborhood.
COVID-19
The COVID-19 pandemic has been a challenge, causing some delay in finishing The Rylan.
"We saw some supply chain issues. It was and still is painful," Yanicelli said. "Just in the general development market, contractor availability is tough."