Micro-Unit Complex Planned for La Jolla Village
Wednesday, November 18, 2020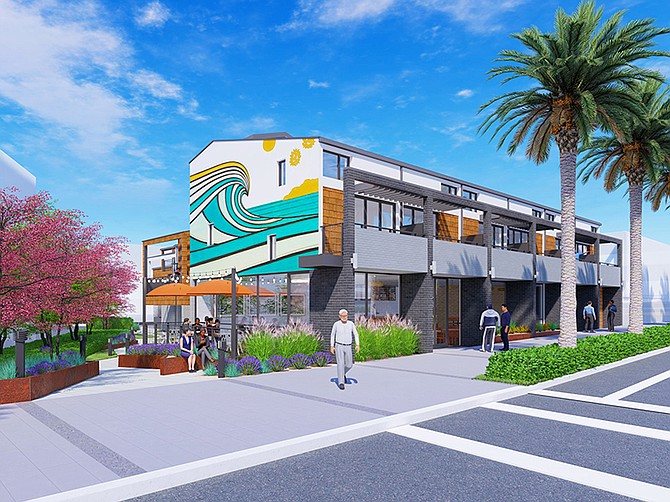 A Carlsbad real estate investment firm is planning to build a $10 million micro-unit apartment complex in the heart of La Jolla Village.
Mana Investments also is planning to build a larger micro-unit complex on Point Loma near Liberty Station with a preliminary cost estimate of $30 million, according to Orville Power, managing partner of Mana Investments.
"We're kind of rolling out a program all throughout San Diego of micro lofts, Power said.
Girard Lofts at 7606 Girard Ave. with 18 loft apartments will be the first of the micro lofts with the Point Loma project of 79 apartment lofts to follow.
The Point Loma project is still in the planning stages, but Power said Mana Investments expects to break ground on Girard Lofts in the first or second quarter of 2021.
"You're going to see an influx of new residential units coming into La Jolla Village so we're going to be part of that," Power said. "La Jolla just needs new life brought into it."
Designed by DBRDS, an architecture and design firm headquartered in downtown San Diego's Gaslamp Quarter, Girard Lofts will be built on a 14,000 square-foot lot behind the Vons supermarket bracketed by Girard Avenue and Drury Lane.
The 18 micro-lofts in the 19,659 square-foot complex will range from 350 square feet to 755 square feet with most at 481 square feet.
Every apartment will have a large enclosed private deck, Power said.
Market Strategy
Monthly rents will range roughly from $2,600 to $2,700, Power said. One apartment has been designated as affordable for low income tenants.
"The overall rent is relatively affordable for La Jolla. I think that's going to be one of the drivers," Power said. "That's the whole strategy, the whole market strategy is we're building a smaller, well-designed projects in walkable, desirable neighborhoods."
Likely tenants of Girard Lofts will be single professionals "that want to be in that urban environment."
"It's clearly not a family environment," Power said. "It's a mature marketplace and I think the younger demographic would like to live."
The building has an open air design, so there are no enclosed hallways or corridors.
The Look
"The Village of La Jolla is quite eclectic in its architectural styles," said Pauly De Bartolo, DBRDS co-founding principal and project designer.
Girard Lofts is meant to reflect that with a mix of materials and a façade that changes from one vantage point to another, De Bartolo said.
The building exterior combines brick, fiber cement shake shingles, and stucco, among other elements.
Apartment interiors are still being designed, but Power said they'll have 15-foot high ceilings.
"We're looking at something that kind of captures a younger demographic that wants to have something more contemporary in finishes," De Bartolo said.
The ground level of the two-story project will include a parking garage with 13 spaces that won't be visible from Girard Avenue, a single apartment and 1,900 square-feet of commercial space.
The one ground-floor apartment will increase security without actually being a security outpost.
Sometimes, unsupervised links tend to become places of refuge for the homeless or so forth," De Bartolo said. "By activating the laneway as an (apartment) unit, it's essentially having eyes on the ground in a sense of security without actual being security."
The remaining 17 apartments are on the second level.
Evolving Retail
The commercial space will face Girard Avenue and is designed to be broken up into small shops in what De Bartolo said was a nod to the changing characteristics of the retail market brought on in part by the COVID-19 pandemic.
"If there's one thing that COVID has taught is it's that commercial property and retail property have to rethink how they do business," De Bartolo said. "The retail space for us was designed intentionally to provide flexibility."
De Bartolo said a key element of the project is a meandering pedestrian pathway through the property.
"It's very unusual for a development project to embrace the public meandering through it," De Bartolo said, but the site has long been used as a pedestrian connection between Girard Avenue and Drury Lane.
There are few amenities, aside from a lounge, an open-air courtyard and a barbecue area.
"Some of the apartments these days have a ton of amenities, which we don't," Power said, adding that the village is its own amenity.
"Historically, back in the '60s, this was what they built, then it morphed into these big, amenitized urban apartment projects," Power said.