Digital Payment Company Raises $4 Million in Financing
Monday, November 16, 2020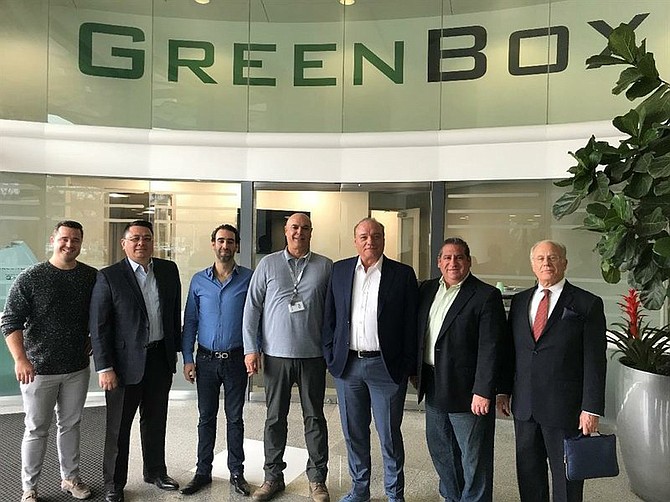 GreenBox POS, a digital payment processor company which develops customized payment solutions, has closed $4 million in financing from investors.
The financing was led by Kingswood Capital Markets, a division of Benchmark Investments, and the funds will be used to accelerate the release of its third generation technology.
The San Diego-based company was founded in 2007 and is led by CEO Fredi Nisan and Chairman and Co-Founder Ben Errez.
GreenBox, which trades under GRBX on the Over-the-Counter exchange, develops point-of-sale software and hardware; delivery and payment applications; and merchant services, such as deposit and electric wallet management.
"GreenBox POS is leading the way in changing how people worldwide behave with money," said Nisan. "Not only are we creating a more efficient, secure, and reliable way for individuals and businesses to use, accept, and process money, we are providing a real solution that can be implemented worldwide."
Tapping Blockchain Technology
GreenBox's software is based on blockchain ledger technology, the decentralized digital platform used to record transactions. Blocks in the chain are essentially digital pieces of information that verify and store a transaction through third-party authentication, or a vast network of computers.
In particular, the company develops individual applications integrated with an end-to-end suite of financial products.
It provides various solutions such as QuickCard that provide a Blockchain technology powered E-Wallet that can be loaded through a downloadable Android or IOS app, or through a cash loading kiosk installed in participating retailers or merchants.
Other products include GreenBox POS, its software solution and LOOPZ, a delivery software solution that offers service dispatcher back-end technology with manual and automatic modes.
"All of GreenBox's products use Blockchain secured ledger technology to store and communicate data between them. As such, the delivery application is aware of the inventory status in real time. The point of sale product updates that ledger on each completed sale done in person or online. Consumers can tip service providers directly without any of the money going to a merchant," said Errez.
$170M Payments Processed
The technology is considered extraordinarily secure in processing transactions because a single, definitive account of events doesn't exist, making it extremely difficult to manipulate or edit.
The company debuted its commercial payment service early last year. It processed more than $170 million through the September quarter, taking a fractional fee on each transaction. The company is scheduled to report fourth quarter and full year results later this month.
Revenue generated from more than 100 verticals in 2019, according to recent filing, nears $17 million, a figure that's expected to grow substantially this year, with processing volume forecasted to potentially grow to over $1 billion.
"We were lucky enough to start when the absolute beginning stages were reasonable. Today, the barrier to entry is unbelievably hard," said Errez. "As a result, this payment space, which — in the U.S. approaches $200 trillion annually — creates an open space for Greenbox's evolution, with zero competition."
Aiming for NASDAQ
Nisan, brings decades of experience from the POS and merchant services business sector. In 2015, he recently successfully founded and exited BravaPOS, a company that developed software for specialty retail.
Errez, brings seasoned experience from investment, consulting and big software and hardware industries. He previously held multiple executive roles at Microsoft, IBM and Intel.
Headquartered in Mission Valley, the company employs 22 at its San Diego headquarters, and offshores software development and customer services to Brazil, the Philippines, India and Pakistan bringing its total staff count to 112.
GreenBox has also had some initial discussions with representatives at the Toronto Stock Exchange and will consider opportunities related to a dual listing option to boost its capital position.
Looking ahead, the company goal is to raise additional capital between $20 to 50 million and successfully become listed as an NASDAQ company as early as Q1 2021.
Its third generation of technology is expected to launch by the end of 2020 and will grow its team headcount significantly next year, said Errez.