Lawmatics Raises $2.5M in Seed Round
Thursday, November 12, 2020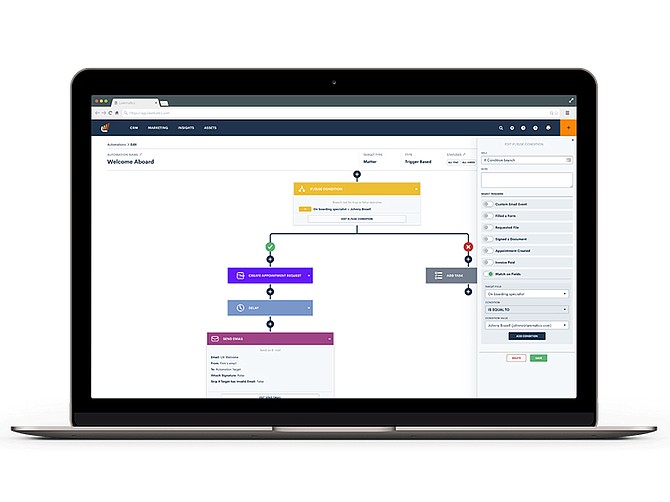 San Diego-based Lawmatics, a software company that is building marketing and customer relationship management (CRM) software for lawyers, has raised a $2.5 million seed round.
Founder and CEO Matt Spiegel launched Lawmatics in 2017, after spotting the opportunity to provide law firms an array of marketing tools to help scale and manage their client base.
Throughout U.S.
Since launching, Lawmatics is now operating throughout the U.S., focused primarily on small-to-medium sized private law firms. To date, the company has "thousands" of users with several hundred clients paying for its Software-as-a-Service (SaaS) platform.
This is the first round of funding for the three-year-old startup. The financing round was led by Eniac Ventures and Forefront Venture Partners, with participation from Revel Ventures and Bridge Venture Partners.
The funding will be used to expand its user base, hire talent and further national footprint, hire talent and further develop its products and services for law firms.
CRM Software
Lawmatics serves as a CRM software similar to Salesforce, its software streamlines the lead intake process and then provides tools to manage communications and appointments with potential clients.
Other features included are the ability to run analytics and create reports that provide insight into lead sources and the lead management process.
"A law firm's relationship with its clients can be divided into three phases  —  client intake; the active legal case; and after the case has been resolved," said Spiegel. "Most legal software is designed to handle phase two, while Lawmatics focuses on phases one and three."
Today, there are more than 400,000 privately-owned small lawyer firms in the U.S. alone, and millions of small practices globally.
Many are facing unique challenges due to the coronavirus but Lawmatics is positioned to help them as more businesses realize the increased need to track and manage their legal marketing efforts.
"The legal industry is pretty resilient and recession proof, at least historically. Everybody now has more time on their hands and are stuck at home, meaning they need more tools that help them go virtual," said Spiegel. "We're perfectly situated to be the solution for that."
The platform includes a CRM system to manage the initial client intake process, as well as tools that can automate minor task such as sending birthday messages to former clients .  Which can be crucial for law firms to nurture those relationships, because most of their business comes from referrals, said Spiegel.
Monthly Subscription
The company charges businesses a monthly subscription to use their tools, costing around $80 per month and a one-time setup fee of $199.
For example, its Client Intake tier provides its users with basic CRM features which comes with analytics, reporting, a plain te4xt email tool as well as two email automation functions.
Spiegel said the company's go-to-market strategy is very similar to his previous company MyCase, a legal-tech company focused on helping law firms with intake forms, document creation with eSignature, scheduling, and lead management and analytics tools.
As of now, Lawmatics is one of the few major players providing legal-specific CRM and marketing tools. However, Spiegel knows that will not always be the case, adding that now is the time to grab market share before competition grows.
"We are really the only ones in this market right now and we're going after a massive land grab trying to build a massive business," he said. "We don't have any ulterior motive, other than building a successful legacy company that employs a lot of people and has staying power."
Spiegel's previous startup MyCase was acquired by AppFolio in 2012 (AppFolio recently sold MyCase to a private equity firm for $193 million). Now headquartered in Santa Barbara, the company is among the top fastest-growing companies in the U.S., with a relatively modest presence of employees that remain in San Diego county.
In 2015, he started a software company that helped organizations manage trade shows and events. Spiegel also worked as a criminal defense lawyer. Roey Chasman is Lawmatics's co-founder and chief technology officer.
Determined Team
In a statement, Tim Young, founding general partner at Eniac Ventures, said he was impressed with Spiegel's ability to put together such a strong and determined team focused on digitizing the legal sector.
"They have not only created the best software product the legal market has seen, they have created a movement," said Young. "In my 10 years investing, I have witnessed few teams more passionate, determined and capable of revolutionizing an industry."
Headquartered in La Jolla, the company employs 11 staffers. Lawmatics also plans to attract talent by partnering with local universities such as UC San Diego, to build out its product development and engineering teams.
Looking forward, over the year or two the startup aims to have several thousand law firms using its platform, an ambitious goal, Spiegel is confident the company will be able to fill the tall order.