Sustainable Multi-Concept Destination to Open in Barrio Logan
Wednesday, November 11, 2020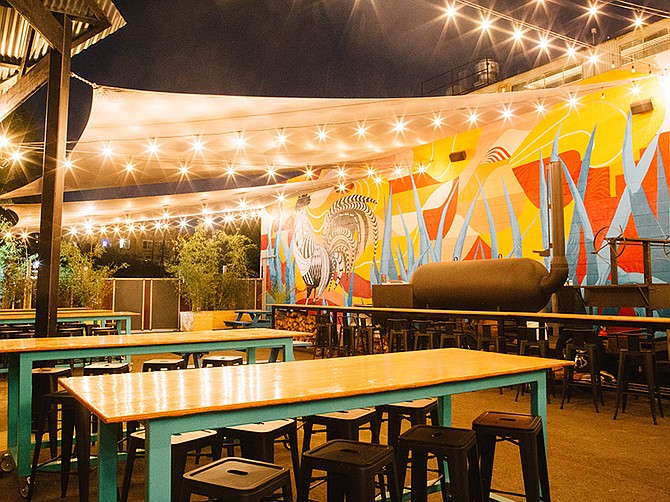 A new multi-concept venue will open later this month in San Diego. This one, with a mission toward sustainability and zero-waste.
Referred to as the The Boiler, the over 40,000 square foot Barrio Logan destination will feature four new dining and craft beverage options, plus Thorn Brewing Co.
ReBru Spirits is a micro-distillery producing small-batch spirits derived from out of code beer. HottMess Woodfired Pizza features Neapolitan-style pizza featuring a proprietary dough recipe that incorporates spent grain from Thorn Brewing Co. and others. Sideyard BBQ by HottMess is an all-outdoor restaurant serving up authentic Texas-style smoked BBQ and craft cocktails, the latter using food waste from both food places as garnish. And, an as-yet-named speakeasy is slated to open in 2022.
Dennis O'Connor is owner of Thorn Brewing Co., with locations in North Park and Barrio Logan. He is also co-owner of the new multi-concept space, along with seven other owner-employees. He is projecting The Boiler will reach north of $2 million in revenue in 2021 and roughly $5 million by 2022.
Cuttings and Scraps
Opening a sustainable, zero-waste multi-concept venue has been a long-time passion project of O'Connor's. And, he has a strategic plan to achieve this objective.
"Because of Thorn Brewing Co., we have relationships with two major farms that take our spent grain and feed it to cows and use the rest for compost for soil. The food waste from the restaurants (at The Boiler) will be added to that," he said. "The other thing is the symbiotic relationship between the restaurant and bar. The garnish will come from cuttings and scraps from the kitchen – we are trying to use everything. If it can't be used in the kitchen because it's not enough, then it will be used in the cocktails. Even as we are thinking about our cocktail program, we are thinking about the menu. We are spending more time on the problem and finding out how to close the loop."
On this front, O'Connor teamed with two local distributors that bring out of code beer to him and pick up empty bottles. As a The Boiler not only uses surplus from Thorn, but from other breweries around town as well. So far, 125,000 gallons of beer waste have been diverted from the landfills, he said, that has been used for the creation of ReBru vodka and gin and ultimately whiskey and some limited, experimental batch spirits. Additionally, the charcoal used to clarify the ReBru Spirits is sourced from Sideyard and the packaging has been designed to minimize the use of plastic and non-recyclable materials, said O'Connor.
Empty bottles will also be reused by way of a bottle return program that will launch in the coming months, he said.
Revamped Horse Trailer
The Boiler currently sits at the former Fraser's Boiler Service Building. Christine Cole, creative director, has retrofitted the interior of the space using mostly upcycled furniture and décor from previously shuttered local restaurants. This includes a revamped horse trailer-turned-bar, among other creative pieces.
Cole said the decision to go sustainable can be harder and more time consuming but felt necessary for the team.
"If we can, we should – that is basically where that comes from," she said. "It is harder, because you have to keep your eyes and ears open for upcycling opportunities, and maybe take an extra day to go acquire materials. But, at the end of the day, you still have to those things. It takes more time and effort, but it can be cheaper and cost-effective. It's the least we can do to help not further damage the Earth."
Zero Waste Guy
Jonathan Levy, also known as the Zero Waste Guy on social media and based out of Los Angeles, said businesses like this will often spend hundreds, if not thousands of dollars a month on their trash bill. From a practical standpoint, doing anything in its power to reduce the amount of waste it generates will directly positively impact the monthly garbage bill. There are also indirect savings, like the repurposing of the dough, he said, or using the charcoal a couple of times.
"Restaurants have thin margins – if they are throwing food away, they are throwing away money and value," he said. "When we first focus on reducing, our operations run more efficiently and causes one to be more mindful about not wasting our resources. If you throw something in the trash, you are saying it doesn't have value. But if you are repurposing it, you are not only saving money that you can then input into the business, you are also spending less on trash services that could otherwise be costly."