Security On-Demand Pulls in $2.2M Grant
Wednesday, November 11, 2020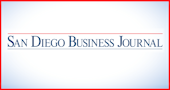 The European Union has awarded $2.16 million to a San Diego-based cybersecurity company, Security On-Demand, to help it develop its technology.
The business, based in Scripps Ranch with an office in Poland, said the grant will facilitate the development of its proprietary Big Data analytics technology and lay the groundwork for further development.
A New Approach
"We are grateful for the opportunity we've been given to use our AQ Technology core to commercialize a groundbreaking new approach to cyber threat detection," said Peter Bybee, CEO of Security On-Demand. "The grant funding will allow us to innovate and build exciting new threat analytics capabilities, while investing in our amazing team of data scientists, mathematicians and software developers in Warsaw, Poland."
"We benefit as an American company," Bybee added in a recent interview. The business does R&D in Poland with a staff of about 20, including many university researchers. The technological knowledge gained will advance the business overall. The business has 50 employees in San Diego and 30 elsewhere in the United States.
The grant was funded by the European Union and administered through Poland's National Center for Research and Development.
A Sharp Eye for Data Anomalies
Security On-Demand's AQ Technology is able to sift through very large data sets, in the range of petabytes (1,000,000,000,000,000 bytes). It can spot normal behavior and detect anomalies that can't be seen by human observers. "In the cyber realm, attackers are hiding in plain sight," Bybee said. "They're not recognized."
With the help of artificial intelligence and machine learning, Security On-Demand is working to improve its offerings so it can identify a security breach and then shut the intruder out before he can do any more damage. "The grant funding will allow us to mature that, fully commercialize it," Bybee said. "That is the future."
Much work on the project is being done in San Diego, he added.
Security On-Demand has seven patents and is in the process of getting four more.
The global cybersecurity market was valued at $156.5 billion in 2019 and is expected to expand at a compound annual growth rate of 10% from 2020 to 2027.
San Diego is a center for cybersecurity technology, with the presence of NAVWAR, the U.S. Navy's information technology command. In a 2019 survey, an industry group, the San Diego Cyber Center of Excellence, counted 150 local companies with cybersecurity as part of their core businesses.