Office Market in Recovery Mode
Wednesday, November 11, 2020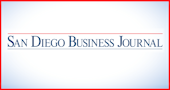 Demand for office space in San Diego County was a mixed bag in the third quarter, with life science deals shoring up what was an otherwise sagging market still suffering the effects of the COVID-19 pandemic.
Even so, there were a few bright spots.
CBRE, for example, reported that rental rates sought by office property owners were flat from the second quarter to the third quarter but was still the third highest on record.
Overall office vacancy rates rose in the third quarter to 12.8% in the third quarter but was still well below the 18.8% peak vacancy hit during the last recession, according to CBRE.
Two submarkets that showed some strength in the office market were Oceanside, where the County of San Diego moved into 116,746 square feet of space it leased in the Oceanside Corporate Center, and UTC, where Apple moved into 71,286 square feet the company leased at 9455 Towne Centre Drive, CBRE reported.
Improving
Doug Ressler, manager of business intelligence at Yardi Matrix, a commercial real estate tracking firm, said that "current conditions show a definite slowdown in the San Diego office market" but Ressler said that things could start to pick up in the office market in the third and fourth quarters of next year.
That assumes that a vaccine and effective treatments for the pandemic become available in 2021.
Ressler said that the San Diego office market is in what he characterized as "recovery mode" while the office market nationally is still in recession.
"San Diego is really at the end of the recessionary period and is right on that cusp that it could be growing again," Ressler said.
A Bright Light
Shining ever so bright in San Diego's office market is the life science sector.
JLL reported that third quarter leasing activity by life science companies topped 951,000 square feet in the third quarter setting a new record with 26 deals completing.
"Robust leasing activity during the third quarter eclipsed the previous largest quarter in Q2-2015, which had generated 721,000 square feet of total leasing among 20 completed deals," JLL reported.
Over the past five years, San Diego has averaged 1.5 million square feet of total annual leasing by life science companies, yet leasing activity has already topped the five-year average, reaching 1.8 million square feet through the third quarter with three months still to go in 2020.
"There's still around two million square feet of active life science demand in the marketplace right now," said Grant Schoneman, a managing director of JLL in San Diego, said.
"There's new requirements popping up all the time and companies are growing," Schoneman said. "You're getting demand pushing on the supply to were even though there's been repositioning of old buildings that have been converted to lab space, those buildings are getting leased."