Heineken USA Releases Hard Seltzer Product
Wednesday, November 11, 2020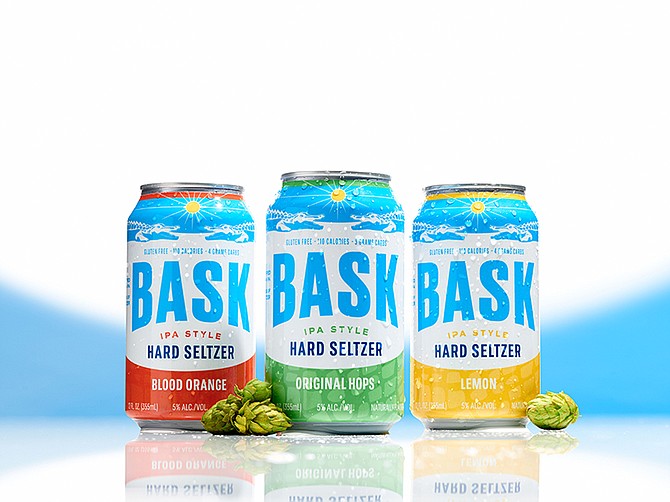 Heineken USA has released a new, innovative product, specifically in the San Diego market.
Bask IPA Hard Seltzer launched for testing in America's Finest City just a few weeks ago. The beverage, available in 12-ounce cans, comes in three flavors: original hops, lemon and blood orange. It is now for sale in about 200 doors in San Diego, said Zahin Qayoumi, USA senior zone director for Heineken USA's Southern California territory. This includes major retailers like Vons and Albertson's and small format stores like 7-Eleven.
"Bask is essentially an IPA hard seltzer, the first of its kind," he said. "It is a lightly hopped, more refreshing beverage than what's available out there. Each is 110 calories with three or four grams of sugar. From what we've seen through our research, a lot of folks that drink IPA also drink seltzer, so we tried to find a marriage between the two. Now that we've put it out there, including in some independent accounts in San Diego, we want people to try it and give us the feedback we hope for, which is repeat purchase."
Craft Beer Capital of America
Qayoumi said the impetus behind releasing the novel product in San Diego was strategic. Because, having a successful run in the craft beer capital of America would certainly be validating.
"Some of the best liquids come out of San Diego," he said, "so, we knew if we were going out with a hard seltzer, we had to do it in the craft capital. We know it's not easy to get noticed among the other choices available in San Diego. But our goal is to put it in the hands of San Diegans, see how well it does and take it from there."
Although he couldn't share week-over-week sales, Qayoumi said some stores have already purchased rebuys.
He added Bask is brewed at Short's Brewing Company in Bellaire, Michigan, and is distributed through Crest Beverage Distributing, headquartered in San Diego.
Notes or Flavors
Bask has been in the works since the summer of 2019.
Following intensive research and studying consumer data, Qayoumi said the Heineken USA team found there was a gap in the market; although 30% of craft beer drinkers were already consuming hard seltzer, the other 70% wasn't. The reason? They hadn't found the right notes or flavors, he said.
So, Heineken USA set out to fill the void.
Most hard seltzer use a clean yeast and super filtration to produce a pure, tasteless sugar base brew to which flavor is then added. But Bask purposefully uses a fruit forward yeast for more flavor, said Qayoumi. Bask has all the citrus, grapefruit and herbaceous tasting notes of a classic American IPA, without the woodiness or bitterness, according to the company. It is brewed using a hop extract oil that strips out the bitter flavor, he said, leaving the fruit forward tropical ones.
The result is a refreshing, hard seltzer that is lightly hopped and flavorful without the fullness of an IPA, Qayoumi said.
Sessionable IPA
This is a large part of what sets Bask apart from other trendy hard beverages, he said. Because of its softer notes and being a sessionable IPA, Bask can be enjoyed without making the consumer feel as heavy or full, than, say, hard kombucha.
Qayoumi said Heineken USA is on a mission to be the most innovative beverage company by 2023. This became a companywide goal when the new CEO, Maggie Timoney, came onboard in 2018. In fact, Bask is one of two innovative products currently being piloted, he said; the company is also testing a hard seltzer product called Canijilla, that was released first in Mexico in the spring of 2019, and is now available in the Inland Empire and McAllen, Texas.
The San Diego market will continue to play a major role toward meeting this objective.