Angel Conference Gears Up for Annual Event
Tuesday, November 10, 2020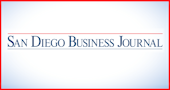 San Diego Angel Conference (SDAC), a program that helps accredited angel investors fund promising early-stage companies, is gearing up for its third annual conference which it hopes to host as a hybrid event next year.
SDAC has grown into one of the largest angel investment programs in the country, with a goal of bringing together both angel investors and early-stage companies while driving the innovation ecosystem forward.
"The main goal of SDAC is to activate new investors and connect them to great companies as a way to enhance the innovation ecosystem. Our motto is 'Get to yes!' We help startups communicate with investors and create a culture of 'yes' among investors by mitigating risk and partnering with early-stage companies toward success," said Mysty Rusk, founder of SDAC and director of the Brink Small Business Development Center at the University of San Diego.
Pairing Funders and Builders
Launched in 2017, The SDAC debuted at the University of San Diego as a way to connect entrepreneurs with people who could fund their business ideas, culminating in a pitch event during which a handful of finalists compete on stage for a cash prize.
Accredited angel investors can participate in the SDAC fund for a minimal investment of $6,000. Ideal for first-time angel investors, the program provides a low investment threshold along with training on how to spot investment-worthy startups and conduct due diligence.
Applications Open
Entrepreneurs that want to participate in the program may apply by Dec. 16., investors will begin reviewing deals in January.
The group is also offering weekly workshops leading up to December, including advice on building a pitch deck, conducting market research and developing a network of investors.
"We host an event every week, where we take apart what an entrepreneur needs to know and address it from the foundation to a pretty intense level," said Rusk. "Last year, on any given topic, about 50 to 75 people would show up for an event. Today our registrations have been between 350 and 400 every week. As much as COVID has been brutal for all of us, it certainly has increased engagement for us in a big way."
$2.3M Invested
To date, its accredited investors have invested more than $2.3 million in over 50 deals, and the 93 companies that competed in last year's conference have raised more than $22 million.
The third annual San Diego Angel Conference is scheduled for March 27, 2021.