San Diego Businesses Eligible for EV Charger Rebates
Monday, November 9, 2020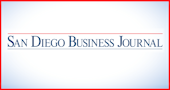 Local businesses, nonprofit organizations, and multi-unit housing can benefit from a $21.7 million rebate project the state of California is launching to increase public access to electric vehicle (EV) charging in San Diego County.
The California Electric Vehicle Infrastructure Project (CALeVIP) is part of a statewide effort to encourage consumer EV adoption through making public charging available at more locations.
The project is primarily funded by the California Energy Commission and administered by the San Diego-based Center for Sustainable Energy.
"Working with local partners ensures infrastructure is installed in where it is needed most to help all Californians take part in our clean energy future," said California Energy Commissioner Patty Monahan.
According to the commission, qualifying properties can apply for rebates to assist in covering EV charging equipment purchases and installation costs, with increased funds available for sites in disadvantaged and low-income communities in multi-family housing.
Applicants can receive up to $6,000 for a commercial grade Level 2 EV charger and up to $80,000 for a high-powered DC fast charger. A minimum of 25% of the project's funds will be distributed in disadvantaged and low-income communities, according to the commission.
The Level 2 chargers deliver 15-35 miles of electric driving range per hour of charging and especially work well in locations where drivers are parked for a few hours – such as businesses. DC fast chargers can provide more than 100 miles of driving range per each hour of charging and can power most EVs. According to the commission, these are suited for major destination areas and along travel corridors.
"By providing on-site EV charging, businesses can attract more customers, build customer loyalty and increase their property's value," said Andy Hoskinson, senior manager for EV initiatives with the Center for Sustainable Energy.
The rebate program is part of an effort to increase accessibility to help the state reach the goal of 5 million electric vehicles on the state's roads by 2030.
Part of the funding for CALeVIP's San Diego County project comes from the San Diego Association of Governments (SANDAG) and the San Diego County Air Pollution Control District (SDAPCD).
"Increasing access to public and workplace EV charging is a key priority for our agency and part of the regional plan adopted by our board of directors," said Steve Vaus, SANDAG chair and Poway mayor.
Greg Cox, chair of the San Diego County Board of Supervisors said the program is one more step in the air pollution control district's efforts to have cleaner air for all of San Diego.
CALeVIP has issued over $13 million for EV charging stations throughout the state since 2017. The project currently offers incentives in a four county area of Southern California, Sacramento County, Northern California, Central Coast, San Joaquin Valley, and Sonoma Coast and are funded for $80.2 million.
Prospective applicants may learn about the rebate application process and plan installations by visiting the CALeVIP.org website.