Honoring Service
Sunday, November 8, 2020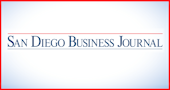 With revenues estimated at more than $13 million each year, Soapy Joe's is more than a San Diego car wash icon and success story. Its 13 locations throughout the county actively support the military.
Locally owned and family operated, more than 25 percent of its employees are veterans.
"Supporting the 100,000 active military and 300,000 veterans that call San Diego home is near and dear to our hearts," said Isaac Lee, senior vice president of operations and a retired Marine Corps lieutenant colonel.
Soapy Joe's is not only opening its doors all military personal for a free car wash on Veterans Day, Nov. 11, it is committed to donating $5000 to Support the Enlisted Project (STEP) and is inviting the community to join its effort. The company is accepting donations online and at kiosks at each Soapy Joe's location.
"As a veteran myself, I am always encouraged to see companies give back. We are grateful they are choosing to support our local military families in crisis," said Tony Teravainen, CEO and co-founder of STEP.
STEP's stated goal is to "build financial self-sufficiency among junior active duty enlisted members and recently discharged enlisted veterans and their families facing financial crisis."
+++
Congratulations to San Diego State University as it was ranked #3 in California for veterans by College Factual out of 155 four-year schools in the state. It also ranks #32 out of 2,104 analyzed nationwide. This puts it in the top 5 percent nationwide for veterans and active duty military. Out of 35,303 total SDSU students, 1,589 are GI Bill students of which 855 are post 9/11 recipients.
+++
The Better Business Bureau Serving the Pacific Southwest (BBB) has named five companies as winners of the 2020 BBB Torch Awards for Ethics for Southern California. The award honors businesses that operate with integrity.
The honorees were: Kubiak Enterprises of San Diego, George Plumbing of Fallbrook, Perry Plumbing and Pipelining of National City, Anderson Plumbing Heating & Air of San Diego, and Reborn Cabinets, Inc. of San Diego.
"This has been a difficult year for businesses, and doing the right thing is not always easy. These companies have demonstrated a commitment to ethical business practices even in the most difficult times," said Shelley Bradley, BBB director of programs and special events.
+++
The San Diego Business Journal will be recognizing women business leaders who have contributed significantly to San Diego with its Business Women of the Year virtual awards on Thursday, Nov. 19. Lidia S. Martinez, who recently retired from Southwest Airlines with 30 years of service, will also be recognized for Lifetime Achievement. You can register for the free event at sdbj. com/BWOTY2020.