North Park Infill Project Adds New Life to Neighborhood
Thursday, November 5, 2020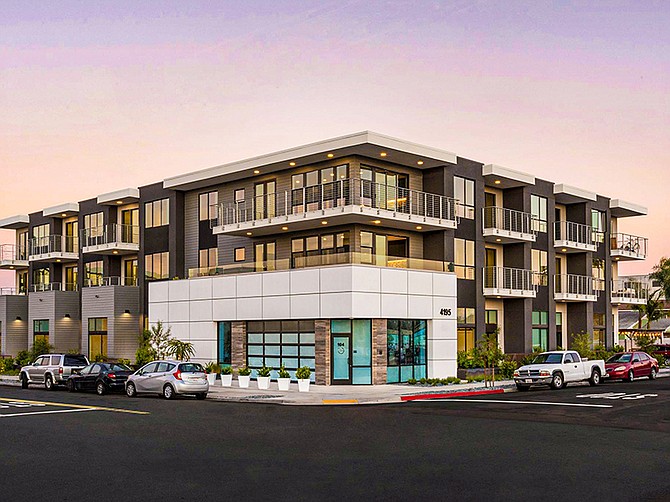 A $9.5 million North Park apartment building took three aging single-story homes and replaced them with an infill project designed to take advantage of nearby transit options and extend the vibrant feel or the area.
Named Modern Kansas in a nod to its design and address at 4195 Kansas St., the project was designed and built by Beri Varol, founder and principal architect of BV Architecture + Design.
The general contractor was Richard & Richard Construction.
Kansas Modern is part of a generation of projects that follow the city's drive to encourage denser projects along transit corridors.
With 24 apartments, Kansas Modern was cited by the San Diego Architectural Foundation's 2020 Orchids & Onions program as "the product of an urbanize approach to development."
Although the project didn't win a coveted orchid award for outstand architectural design, it was nominated for having "beautifully designed spaces and efficient apartments that are flooded with natural light."
The Look
In designing the L-shaped building, Varol said he went for "contemporary clean lines, a lot of simple clean massing."
"We tried to break up the massing," Varol said. "Nobody likes to look at one massive building plane so we used a lot of offsetting planes where we take advantage of the interplay between the balconies and what not."
Every apartment has a balcony of at least 90 square feet.
"One of the biggest missed opportunities in construction in a city like San Diego is that developers don't really focus enough on the outdoor space and we live in one of the nicest, most temperate cities in the country," Varol said.
To further blur the lines between the outdoors and interior, Varol said the apartments have extra wide sliding glass doors and loft apartments have accordion-style stacking doors.
On the upper floors, windows are about nine feet wide by about eight-feet wide, Varol said.
The complex includes a 1,420 square-foot coffee shop on the ground floor at the corner of Kansas Street and Howard Avenue.
Varol acquired the property in August 2017, which he said "lies just south of what's considered to be the neighborhood hub" to the north along El Cajon Boulevard.
The coffee shop serves as an amenity for those who live in Modern Kansas but Varol said it's also meant to extend that active North Park hub.
"It really activates that corner, brings it to life, really contributes to the neighborhood, which was the idea," Varol said. "At the same time, it becomes almost like a living room and amenity."
Adding the coffee shop took a little extra work.
"The lot was zoned residential. It does allow commercial uses on the property but it doesn't allow food," Varol said. "It wasn't difficult to sell the city on the idea we should be allowed to do this. It's contributing to the vision that was outlined in the community plan."
Limited Space
Because Modern Kansas is an infill project on a relatively small lot, Varol said there wasn't room for some of the extras that are built in some of the new residential towers in downtown San Diego.
"You don't really have a lot of space to throw in a fitness center and a community room," Varol said, although he said there is a communal patio with a barbecue on the second level of the building.
"I really feel that the biggest amenity is the location and the walkability," Varol said. "The context is, if you need a gym, you go two blocks, there's like two or three gyms. We don't need to carve out or dedicate space to stick in a gym."
Rents
The project has 17 one-bedroom apartments, four two-bedroom apartments and three one-bedroom apartments with lofts. Three of the apartments have been designated for very low income families.
With the exception of the low income apartments, which have monthly rents of $1,095, monthly rents for the one bedroom apartments range from about $2,100 to about $2,300 and monthly rents on the two-bedroom apartments range from about $3,000 to about $3,300, Varol said.
There's also an extra charge for parking, which is limited as allowed by recently adopted rules that grant exceptions to parking requirements for infill projects like Kansas Modern.
"It does have parking, but there's not parking for everyone," Varol said.
Modern Kansas has 17 spaces and charges a monthly fee of $75 for uncovered parking and $125 for covered parking.
Varol said the target tenant market for the project is young professionals, generally between the ages of 28 to 38, which explains the preponderance of one-bedroom apartments.
"Once we started leasing the building, that turned out to be really, really fortuitous. We had no problem at all leasing our one-bedroom units. It seems like everyone was excited about them," Varol said. "What's happened with the rental market is it's been flooded with luxury apartment buildings with that two-bedroom product."
"Hopefully, the city finds ways to work with developers like me to incentivize small developments," Varol said.