How Much is Luxury Housing?
Wednesday, November 4, 2020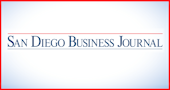 As San Diego housing prices climb into what some might consider the stratosphere, demand for high-priced luxury homes is reaching record levels, according to a La Jolla real estate agency, Willis Allen Real Estate.
But what's luxury housing?
The cutoff used to be $1 million or more, but in the not too distant future, $1 million might be no big deal in San Diego.
RenoFi, a home lending firm, projected that by 2030, the price of an average San Diego home will be more than $1.1 million – a hefty figure for sure, but the firm projected that the average home in San Francisco would cost $2.6 million in 2030 and nearly $1.4 million in Los Angeles.
The San Diego projection uses $696,000 as a starting point for the average cost of a home in 2020.
"The predictions are based upon analysis of historical growth in property prices, alongside the impact that COVID has had on real estate," said James Brockbank, managing director of RenoFi.
No Let-Up
Already in some neighborhoods, $1 million isn't even close to top of the market.
Andy Nelson, owner of Willis Allen Real Estate, said the lower end of the market in La Jolla is between $1 million and $1.5 million and in neighboring University City, the lower end is $800,000 to $1.2 million.
Nelson said La Jolla homes priced at about $900,000 are selling within a day with multiple offers.
"Things priced between $2.5 million to $5 million, we have a multiple number of buyers ready, willing and able to purchase," Nelson said. "It's the lack of good product that has pushed more people making bids on houses and competing with people who want the same house."
Nelson predicted that the San Diego County housing market will stay strong for the immediate future.
"We're going to have a sustained growth in sales in our business," Allen said. "It may not be as fast and furious as it has been for the last three months, but I think it will be strong enough."
Holding Back
Zillow, an online housing listing and sales firm, in its most recent report said that the typical San Diego County home in mid-October sold within nine days of listing – 15 days faster than a year ago with the inventory of homes on the market 35% lower in October 2020 than in October 2019.
A Zillow survey of homeowners who are thinking about selling in the next three years found that the COVID-19 pandemic has led some would-be sellers to hold back because of uncertainty surrounding the pandemic and the expectation that they could get a higher price if they wait.
Health concerns and mortgage forbearance programs are cited far less often as reasons homeowners aren't selling.
The result is that inventory in the San Diego metro region is down 35% year-over-year with median list prices 9.2% higher than they were a year ago a sales prices up 11%.
Nationally, Zillow reported that life uncertainty, likely caused by COVID-19, is keeping 34% of would-be sellers out of the market.