LEADERSHIP: IN 10 YEARS, VELASQUEZ HAS INCREASED MUSEUM'S COLLECTION BY 2,560 PIECES
Raising the Profile of the Museum of Art
Tuesday, November 3, 2020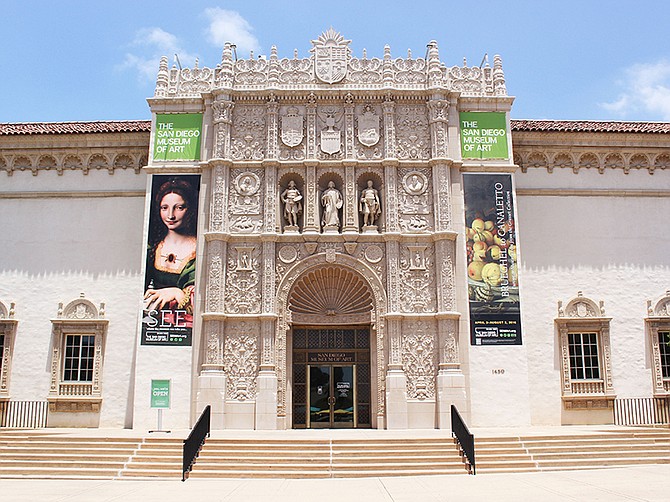 Roxana Velasquez is a force to be reckoned with in the world of art.
Born in Mexico City, Velasquez became one of the youngest directors in the world when she was appointed to executive director at the National Museum of San Carlos in 1997. The institution, located in her hometown and devoted to European art, is known as the oldest museum in the American continent, she said.
After 13 years there, Velasquez went to the National Museum of Art, where she oversaw 450 employees. And, a few years later, left for The Palace of Fine Arts. There she helped managed over 900 staffers and was responsible for curating big-name exhibitions like a Frida Kahlo show in 2007 and a Magritte retrospective.
In 2010, Velasquez was offered the executive director position at the San Diego Museum of Art, founded in 1925 and headquartered in Balboa Park.
New Levels of Distinction
What excited her the most about the opportunity was the collection the museum already had, she said, including old master paintings and work by California and San Diego artists. But, more so, the opportunity to build on the museum's strengths to reach new levels of distinction in regional, national and international spheres.
"We have 25,000 works of art from all over the world, from Japan, Korea and Latin America, and 20 galleries. Why are people not speaking more highly about this museum?" Velasquez, who received her Bachelor of arts from Iberoamericana University and her MBA in museum studies from Arizona State University, said. "I saw the biggest opportunity to awaken people and share in a broader way what was going on here."
Since joining the organization, Velasquez has increased the museum's works of art by 2,560, commissioned from around the globe, she said. Ten years later, Velasquez continues to make it her mission to raise the institution's profile and implement strategies to build on that plan.
To do so, Velasquez has focused heavily on various areas in the past decade, starting with fundraising efforts. She said 56% of the organization's revenue comes from donations and earned income these days. The museum's operating budget in 2019 was $11 million, she added, and $11.5 million in 2020.
"I've worked with more than 600 museums across the world. In the end, art is what makes us better and bridges the differences and brings forth communication," she said. "It's one of the greatest differences I've noticed between art institutions in the United States and those in Mexico: that the philanthropic arm of the former is stellar. We're created with the will and real knowledge that this is by and for the betterment of the community. And that is why we depend on donations."
Community
Another strategy Velasquez has paid close attention to the last 10 years is creating exhibitions that have helped position the museum on an international scale but also provide an additional avenue to fundraise, said Velasquez. To do so, she has created exhibits that could be exported, generating revenue and also helping elevate the museum's overall reputation. So far, these exhibits have been exported to 10-12 art houses internationally, including in China and Canada, she said.
Velasquez said this strategy is a win-win for all.
"It helps create and ignite pride from locals to know an exhibition from the San Diego Museum of Art is in Madrid or China," she said. "If they want our collection, it must be something we should check out."
Kari Kovach, chief operating officer at the San Diego Museum of Art, said Velasquez not only has undeniable passion for art, but a strategic mind for strengthening the museum.
"Velasquez has a clear vision that propels those around her to accomplish more than they thought possible," she said. "That clear vision is based on her undeniable passion for art and the principle that art is essential. She has that rare combination of an incisive eye for master works of art, an encyclopedic knowledge of art history, and a strategic mind for strengthening the museum."
Digital Reach
Because of COVID-19, the San Diego Museum of Art closed in March and didn't reopen until Sept. 4. During that time, Velasquez said the museum was able to expand its digital reach, more than doubling its audience. For example, during a lecture in September, which normally draws 400 people to its auditorium, Velasquez said she had more than 1,400 viewers online. She also said this past summer camp, she had 1,500 kids from nine states join the museum's virtual program.
Velasquez said it was helpful that the museum had invested and released an app six years prior, which kept its members connected and helped it gain new followers.
Since reopening, Velasquez said the museum's weekends have been at 80% of normal visitor count. She said it has implemented strict protocols like temperature checks, social distancing, mask requirements and limited capacity to keep both visitors and staff safe during COVID-19.