TRUMARK HOMES CONFIDENT IN LOCAL MARKET
Escondido Project Features Two Neighborhoods
Tuesday, November 3, 2020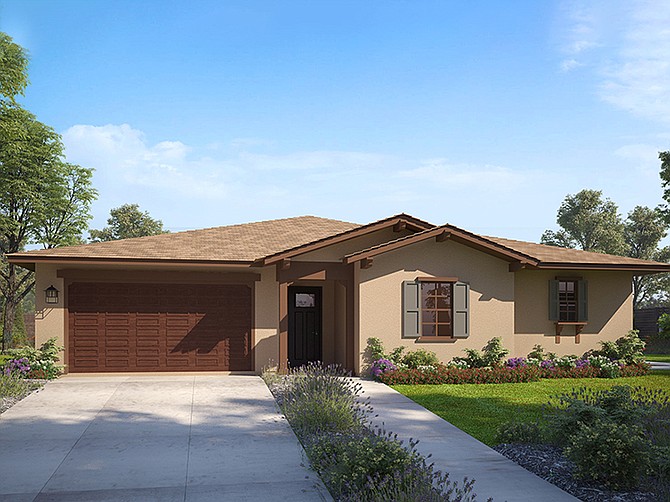 A new Escondido housing development is geared to older home buyers and young families with separate designs for each group.
Trumark Homes based in San Ramone is building the $21 million Edencrest housing project of 95 homes on a 35.6 acre site near Dixon Lake that is divided into two neighborhoods – one with single story homes targeting people over 55 and a second with a combination of larger one-story and two-story homes targeting young families.
Trumark is a subsidiary of the Japanese firm, Daiwa Housing Group, which acquired Trumark in January.
The Resmark Companies based in Los Angeles is Trumark's financial partner in the project.
Avocado Groves
Trumark acquired the Edencrest site in August 2019 for $10 million, said Richard Douglass, Southern California division president of Trumark Homes.
With 57 single-story homes ranging from 2,496 square feet to 2,747 square feet, Arbors is the neighborhood geared toward older buyers.
Buyers in Arbors have the option of adding a two-room second story that would raise the size to 3,399 square feet.
Groves with 38 homes will be from 3,100 square feet for single-story homes to 3,601 square feet to 4,043 square feet for two-story homes.
Douglass described the development as "a piece of yesterday" with a lot of open space and "sort of like old-school housing."
Going up at the corner of El Norte Parkway and East Lincoln Avenue, the Edencrest site is a former avocado ranch.
Sales
"It's a very picturesque setting because it's still surrounded by the groves," Douglass said. "The trees are still there and they still yield avocados. When we bought it, it had the packing plant, sort of industrial structures on it that we demolished and took down."
The site is terraced with home lots of about 10,000 square feet minimum, Douglass said. Some go up to 15,000 square feet.
"There's some very dramatic views that are going to be had on the upper levels," Douglass said.
In its first week of putting model homes on the market, Trumark sold 17 homes.
"After selling 18% of the community's homes, our team feels confident in the local market and optimistic that Edencrest will see consistent sales for the remainder of the year," Douglass said.
Designs for the project were "pretty baked" when the COVID-19 pandemic hit, but Douglass said some of them were tweaked to take the pandemic into account to create space for home offices.
As it turns out, the timing of going to market in the middle of the pandemic worked well as people reevaluated their living spaces and looked for housing with more room, Douglass said.
Edencrest is scheduled for completion in mid-2022.
Planning
Edencrest is one of four housing developments Trumark has finished in Southern California or has under construction.
They include Lewis + Mason in Anaheim, West Village & West Village Flats in Brea, and Rancho Palma in San Bernardino.
The company also is planning to build a 301-home project in Oceanside, Douglass said.
Trumark chose Escondido for its first San Diego County Development in part because the area has gone through a transformation in recent years including improvements to Interstate 15 with car pool lanes that make commuting easier.
"The I-15 corridor today is a completely different freeway than it was seven or eight years ago," Douglass said.
Many of those who work for Trumark were familiar with Escondido because they worked for a company that developed a project near Edencrest before they joined Trumark.
"We like Escondido," Douglass said.