Hillebrand Beverage Logistics Co. Leases San Diego Warehouse
Monday, November 2, 2020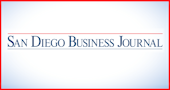 Hillebrand, a Germany -based provider in the forwarding, transport and logistics of beer, wine and spirits, has leased a new warehouse at The Campus at San Diego Business Park. This marks Hillebrand's first facility in the S.D. market.
The key logistics hub provides a point of entry for Mexican import products for Hillebrand. Heineken USA will be the first and primary customer to leverage the location in San Diego.
"We continue to invest in our network and our people in North America to support the beverage industry," said Scott Moorad, chief operating officer of Hillebrand North America. "This new warehouse location will be significant in serving our valued clients with production in Mexico and Latin America."
Travel & Hospitality reporter Mariel Concepcion can be reached at mconcepcion@sdbj.com or 858-634-4625.