GROOMING STARTUP COULD BE VALUED AT $700M
Manscaped Expands, Explores Options
Sunday, November 1, 2020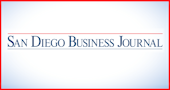 Manscaped, a startup that makes men's grooming products, on Oct. 22 has launched in 30 European countries, including France and Germany.
This follows successful international launches earlier this year into Canada, Australia, New Zealand, and the United Kingdom.
The expansion comes at a time when the company is raking in eight-figure revenues annually, the direct-to-consumer company reported it experienced 800% growth and 40x revenue increase over the last two years.
The San Diego-based company sells "precision engineered tools" and hygiene products for below-the-waist grooming such as The Lawn Mower and Weed Whacker.
Global Footprint
"At our core is a mission to provide as many men as possible with a line of superior products that will elevate their grooming experience," said Paul Tran CEO of Manscaped. "On a larger scale, we aim to democratize below-the-waist grooming and hygiene worldwide. After four successful international launches just this year, we are proud to continue this trajectory and further establish our global footprint."
Founded in 2017, Manscaped has several partnerships within the sports industry. It recently announced partnerships with the NFL's San Francisco 49ers, the Los Angeles Kings hockey team, Professional Bull Riders and mixed martial arts organization UFC.
As one of the fastest-growing Consumer Packaged Goods (CPG) companies, the startup is on a mission to create an open and empowered male culture that results in more proactivity around self-care and health.
The company is backed by investment firms Kaktus Capital, Longley Capital, Rx3 Venture Partners and Scala Ventures, according to PitchBook. The company founders also appeared on Shark Tank, where it snagged a half-a-million-dollar investment in 2018.
Up to $700M Valuation
Looking forward, Manscaped is considering a sale or new fundraising. Either option could reportedly value the San Diego-based company at more than $700 million, according to PitchBook.
The company is generating about $100 million in annual sales, however its company officials have yet to confirm that figure.
Its wet products and consumable products are made in San Diego by its in-house R&D team. It's hard goods are designed locally with manufacturing domestically and overseas. Headquartered in Carmel Mountain, the company employs roughly 110 staffers.
"Adding the European Union is a milestone for the brand and the category. It is an exciting time for our company and the category as we can now reach over 1 billion consumers," said Tran.