TECH: CO. BREAKING RECORDS BUILDING NEXT GENERATION APPLE MDM
Kandji Raises $21M in Series A Round
Sunday, November 1, 2020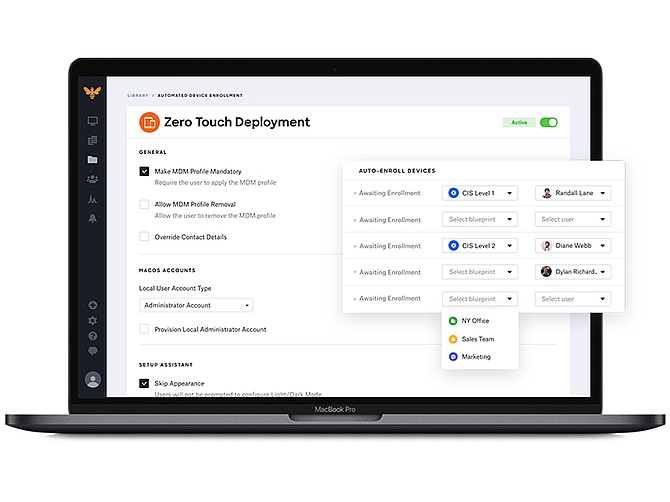 San Diego-based Kandji, a next-generation Apple MDM (mobile device management) company, has closed a $21 million Series A investment round.
The funding round comes at a record-breaking time, as the company has only been in the market for less than 10 months, delivering on its promise to go far beyond Apple's base MDM protocol and other solutions on the market.
The round was led by Greycroft, with participation from Okta Ventures and B Capital. Existing investors, including First Round Capital (led by Josh Kopelman) also participated. In total the startup has raised $28.4 million, to date.
Company co-founder and CEO Adam Pettit said the new funding will be used to drive growth and innovation in the Apple enterprise management space as well as significantly grow its presence in the region.
Headquartered in downtown San Diego with roughly 40 staffers, the company plans to triple its team size over the next 12 to 18 months. It will also expand its enterprise features such as enterprise single sign-on (SSO), Self Service functionality, and its public API.
Built from the Ground Up
Founded in 2018, Kandji was built from the ground up by the company's founders who have deep knowledge in Apple. Previously running an IT consultancy for more than a decade, the team developed a proprietary stack of tools to help with highly sophisticated Apple device deployments at large organizations.
In less than two years, the company has seen incredible demand for its product and has hundreds of paying customers across the globe including large companies such as Crunchbase, Turo, Amplitude, among others.
Its cloud-first platform provides features with more than 150 pre-built automations and workflows that streamline the most common and complex tasks for Apple IT administrators.
Mobile device management is a type of software that helps enterprise IT departments monitor and manage devices, and make sure they are in compliance with company security policies. In Kandji's case, it applies to laptops, watches, phones, tablets and Apple TV boxes.
$23B Market
A quickly growing industry, the market size is approximately $12 billion in 2020, and is anticipated to grow to $23 billion by 2024, at about a 20% annual growth rate.
Investors backing the company believes Kandji is well-positioned and will become an industry leader in the space.
"The use of Apple devices in the enterprise is growing rapidly, and a massive opportunity exists for a modern Apple enterprise management solution," said Teddy Citrin, principal at Greycroft. "We were blown away by the positive feedback we heard from Kandji's customers — they are changing the landscape and redefining what it means to manage and secure Apple devices in the enterprise.
A key competitive advantage between Kandji and other MDM solutions, or even Apple's base MDM functionality, is a set of one-click compliance tools.
The parameters have all of the tools built-in to automatically deploy a set of policies related to a given compliance framework without having to go through and manually set all of those different switches yourself. In addition, its users can create their own parameters, if needed.
"You have organizations of all shapes and sizes that are now realizing that mobile device management is a critical part of their IT infrastructure," said Pettit. "Today, we're seeing organizations that are coming from other products that have outgrown capabilities, we see companies coming from our competitors. There's lot of companies that are looking to kind of save time and automate and they see the return on investment with a product like Kandji."
From a revenue standpoint, the company projects to grow by 10x over the next 10 to 12 months.
To support this growth, Kandji will hire additional staffers in key roles including finance and operations, sales and marketing, research and development, and product design.
"Our game plan is to build the single source of truth for Apple enterprise management and to be the standard for organizations that manage Apple devices, and cover all the bases and provides the most complete cloud-based solution," said Pettit. "We're really in this for the long run, and we want to build a solution where we can support tens of thousands of customers, and we want to build a really big business here in San Diego."