DEVELOPMENT: 97 TOWNHOMES AND 44 AFFORDABLE APARTMENTS TO BE INCLUDED IN COMMUNITY
$100M Mixed Use Project Coming to Poway
Sunday, November 1, 2020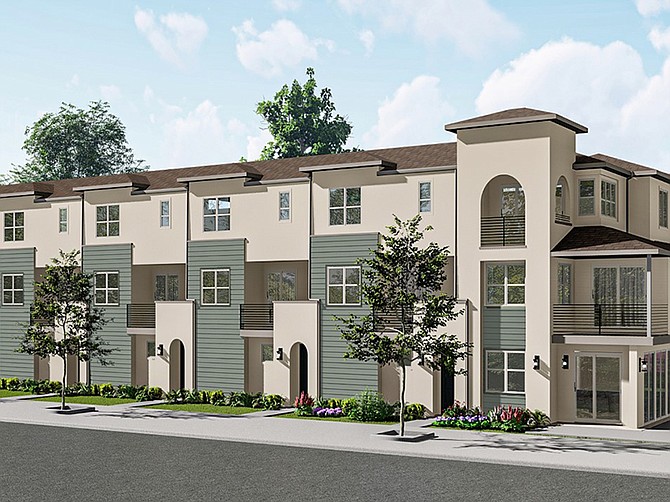 Meridian Communities – an affiliate of the company behind development of Millenia in Chula Vista - is building a mixed-use project in the historic Poway Town Center that will include 97 market-rate townhomes and flats.
With initial construction cost estimates of about $50 million, Poway Commons will include 44 affordable apartments to be built by Chelsea Investment Corp.
Plans also call for commercial development of 2.2 acres of the site that spans the north and south sides of Poway Road west of Civic Center Drive and Tarascan Drive.
Meridian Communities also is building a 15,000 square-foot public pocket park on a triangular-shaped vacant lot in front of the Poway Branch Library.
Details of the commercial development are still being worked out, but Guy Asaro, president and CEO of Meridian Development – the parent company of Meridian Communities – said the total cost of the overall project including commercial development could be about $100 million.
The commercial development will be between 15,000 square feet and 30,000 square feet, Asaro said.
"It's highly dependent on the retail sector and what happens with COVID and how that all comes back and what the market looks like when we come out of this current pandemic situation," Asaro said. "While we're planning it on paper now, as we talk to retailers and future users, there's not a lot of activity and conversations going on in that environment right now."
The Neighborhoods
Housing construction should start "in the next several weeks," Asaro said.
Designed by Woodley Architectural Group with California offices in Santa Ana,
Poway Commons will be divided into three separate neighborhoods - Artemis, Janus and Metis.
The neighborhoods were named after Greek gods in a nod to Poway High School's connection to Greek mythology. The school's sports teams are known as the Titans.
Artemis is named for the goddess of wildlife acknowledging the city's rural setting, Janus for the god of new beginning to mark the life-changing experience of buying a first home, and Metis in honor of Poway's school system. Metis was one of the Titans and goddess of wisdom, prudence and deep thought.
The affordable housing apartments to be built by Chelsea Investment Corp. will be named Apollo, after the Greek sun god aligned with healing, medicine, light and truth.
Diversity
Poway Mayor Steve Vaus, in a statement, said that Poway Commons "is more than a new development."
"It's a call to action to welcome a new diversity of residents who have been waiting to call Poway home," Vaus said.
Parts of Poway Commons was modeled after floor plans Meridian used in Millenia, Asaro said, although the architecture is more in keeping with the look of the nearby library and civic center.
"We wanted to be respectful of the city of Poway's culture, being the 'City in the Country' but we also wanted to bring a little bit of contemporary flair," Asaro said.
Describing the look as "Irvin Gill-esque, Asaro said "If you look at the civic center and library, it's a cross between that and some modern elements."
Artemis will have 48 townhomes and penthouse flats with private elevators for the flats. The townhomes and flats will range from 1,850 square feet to 2,481 square feet with three to four bedrooms.
Janus will have 36 two-story townhomes ranging from 1,476 square feet to 1,605 square feet with three bedrooms and flex loft options.
Metis will have 13 three-story townhomes ranging from 1,330 square feet to 1,575 square feet with covered balconies.
Apollo, the affordable living portion of the project by Chelsea Investment, will have 39 one-bedroom apartments and nine two-bedroom apartments. They will be available to households earning up to 60% of the area median income. For a two-person household, that would be up to $55,140 annually.
Amenities in Poway Commons will include a picnic area with barbecues and a pedestrian pathway along Rattlesnake Creek that will link Poway Road to Community Park.
"That's just a wonderful, wonderful connection and facility. It's got soccer fields and bocce ball, a brand new senior center and revamped pool," Asaro said.
Buyers
Home prices haven't been set yet, but Asaro said that the entire community is geared toward people that have historically been priced out of the Poway market with price starting in the $500,000's.
"I think we're going to have really strong demand," Asaro said.
Asaro said he expects many buyers to be people who live in Poway now and want to move to smaller homes or people who grew up in the city but couldn't afford to live there.
Calling Poway Commons "an attainable community," Asaro said "It's a really unique opportunity to bring product that's affordable and attainable to some folks who have not had that opportunity in North County."