Sycuan, Valley View, Viejas Cautiously Reopening Casinos
Thursday, May 21, 2020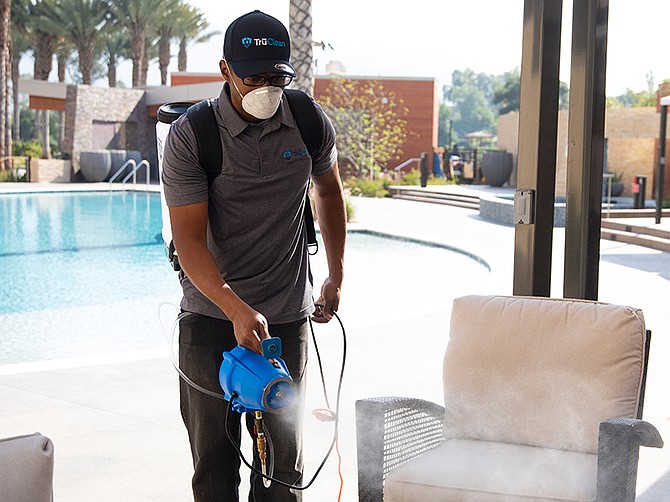 In March 2019, the Sycuan Band of Kumeyaay Nation unveiled its $260 million expansion on the Sycuan Casino Resort. Exactly a year later, on March 20, the casino temporarily closed its doors due to the COVID-19 lockdown.
Now, two months to the day after the mandated closure, on May 20, Sycuan will officially reopen, while following social distancing and implementing Center for Disease Control & Prevention guidelines throughout the property, among other health and safety measures.
Others that have also announced their reopening dates include Viejas Casino Resort & Spa, scheduled for May 18, and Valley View Casino & Hotel, slated for a May 22 opening.
Host of Restrictions
According to Robert Cinelli, general manager at Sycuan, phase one of the reopening will have a host of restrictions in place throughout its various sectors. This consists of food and beverage venues having limited hours of operation, a number of slot machines turned off to promote social distancing and table games limited to three players, among other limitations, he said.
"On the casino floor, every other slot machine will be turned off to create distance between customers," Cinelli said. "Every table game will only allow three people per table game, instead of the usual six people. We are going to have valet closed, pools closed, our buffet closed, and bingo and poker closed. Out of the 13 restaurants on the property, we will only be opening four in phase one. All are offering to-go orders except for one, Rank & File – our sports bar – will have sit-down service with social distancing."
Limited Occupancy
Overnight stay at the hotel portion of Sycuan will also open, but with limited occupancy, Cinelli said. He added that while the Sycuan Convention Space will open as well, it will not be booking any events at the moment, and both showrooms' concerts are cancelled through September and possibly through the rest of the year.
Singing Hills Golf Resort at Sycuan opened two weeks prior, said Cinelli, with its own set of guidelines and safety measures in place. For example, walking is allowed but no riding in carts; two people per rounds, not four; no touching or removing of pins; and food service is grab and go, among other regulations.
Thermal Cameras
As part of the partial reopening of the casino floor, food and beverage places and hotel, Cinelli said Sycuan has put in place a stringent list of safety precautions that will help closely monitor the health conditions of both its patrons and its workers. This includes the addition of thermal cameras that check temperatures, which he compared to screening detectors like the ones used in airports. The technology reads each individual's temperature and if it is 100 degrees or above, he said, an employee will do a separate test with a touchless device as an additional precaution. If the second temperature reading also comes back at 100 degrees or more, that person is not allowed access to the property, said Cinelli, and will be asked to seek professional help from a medical care provider.
Antimicrobial Coating
On the preventative end of things, Cinelli said Sycuan also worked with a San Diego company called TruClean, which uses blowers to spray disinfectant on high-touch areas and creates an antimicrobial coating on surfaces that last up to a year. He said even as they continue to clean those surfaces with a powerful mixture of bleach and alcohol, the protective film will remain for the 365 days.
Specifically, for its team members, Cinelli said Sycuan will enforce the wearing of masks, will have dealers wear face shields over their masks ("since they are at closer proximity to guests than most," he said), and will add a plexiglass divider between customers and team members throughout the property. Additionally, it will add floor decals for social distancing and safety and hygiene signage, encourage other personal protective equipment for the staff and incorporate regular team member training, among other procedures, to ensure safety.
Health and Sanitation Program
Cody J. Martinez, the chairman of Sycuan Band of the Kumeyaay Nation, said the goal with the health and sanitation program is to protect all involved.
"Over the past several weeks, we have made extensive changes at our property and implemented an aggressive health and sanitation program to ensure we are doing everything we can to protect our guests and team members for our reopening," he said. "We are slowly opening select venues and gaming areas in phase one of our reopening and will continue to evaluate our reopening strategy to maintain a safe environment for all."
Viejas and Valley View
Much like Sycuan, Viejas Casino Resort & Spa will be employing a lot of the same restrictions, except it will utilize a UV germicidal technology that will be used to clean and sanitize the property daily, according to its website, and all restaurants and lounges will open, except with limited seating and disposable menus. While bars will also be open at Viejas, bar top seating will not be available, the site states.
Similarly, Valley View Casino & Hotel posted a letter on its website from its General Manager, Bruce Howard, announcing its reopening on May 22 and briefly detailing its safety protocols.
"Our casino has made all the necessary arrangements and has finalized all of our precautionary measures that will be in place when we reopen our casino, hotel and restaurants safely on Friday, May 22 at 8 a.m.," said Howard. "In addition to offering our guests a much more spacious casino, restaurants and hotel, we have taken many other precautionary measures that you will notice when you return including requiring all of our guests to please be prepared to have on an appropriate face mask before entering into our casino."
Economic Impact
This may all mean good news for the future of the local economy, if it doesn't promote a regression and/or another expected COVID-19 outbreak.
As per the 2016 California Tribal Government Gaming Impact Study by the California Nations Indian Gaming Association, tribal government gaming generated $7.8 billion in economic output in 2014 in California; created over 63,000 jobs statewide; produced nearly $400 million in state and local tax revenue; and provided $3.3 billion in income for Californians.
A 2017 American Gaming Association report states California's tribal gaming market grew to be worth more than that of the Las Vegas strip for the first time in 2016, surpassing $8 billion in annual revenue. The most recent figures from the National Gaming Commission indicate total nationwide tribal gaming revenue reached $32.4 billion in 2017, up from $31.20 billion the year prior.
Look Ahead
Moving Forward, Cinelli, GM at Sycuan, said the plan is to closely monitor the success of phase one for 30-45 days, before executing phase two. That will consist of reopening of the pools, valet, bingo and poker, he said. Then, if everything goes well with phase two, 30-45 days later it will launch phase three, with the reintegration of bus routes throughout the county and the opening of additional restaurants as well as the spa.
By then, Cinelli said, he hopes all of Sycuan's roughly 2,500 team members will be back in the building, dealing cards for blackjack and calling bingo numbers.