Antibody Cocktail Will Target COVID-19
Thursday, May 21, 2020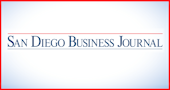 San Diego based Sorrento Therapeutics and Mount Sinai Health System will collaborate on the investigation and development of an antibody cocktail, COVI-SHIELD. The collaboration between Mount Sinai and Sorrento Therapeutics aims to generate antibody products that would act as a "protective shield" against SARS-CoV-2 coronavirus infection, potentially blocking and neutralizing the activity of the virus in at risk populations as well as recently infected individuals. It is expected that each dose of COVI-SHIELD — if approved — would deliver a cocktail of three antibodies which together would recognize three unique regions of the SARS-CoV-2 Spike protein, Sorrento said.
Terms of the deal were not released. In a recent interview with the San Diego Business Journal, Sorrento Therapeutics CEO Henry Ji said the cocktail alone could be worth billions of dollars, as he discussed the worth of his company
According to biopharmaceutical company Sorrento Therapeutics, antibody cocktail therapy established a high barrier to development of treatment resistance while providing a protective therapy for the population at large, If approved, it is anticipated that COVI-SHIELD will be used as a prophylactic for those working on the frontlines and as a therapeutic to those who have been exposed to SARS-CoV-2. COVI-SHIELD prevention and treatment is designed to be administered as often as necessary, with each dose expected to provide antiviral protection for up to two months.
Diagnostic Test
A team from the Icahn School of Medicine at Mount Sinai screened approximately 15,000 individuals who may have had and recovered from COVID-19 for the presence of anti-COVID-19 antibodies. The screening used a diagnostic test developed by Florian Krammer, a professor of vaccinology at the department of microbiology at the Icahn School of Medicine at Mount Sinai, and authorized for use in Mount Sinai's laboratory under an FDA emergency use authorization. Sorrento will have access to plasma containing antibodies against COVID-19 for the purpose of identification and production of monoclonal antibodies with potential neutralizing activity against SARS-CoV-2, Sorrento said.
'Local Flare-Ups'
"It is our belief that as we re-open the country and the economy, we will see local flare-ups of infections spread of SARS-CoV-2." said CEO Ji, of Sorrento. "Unfortunately, with coronaviruses, mutations are part of the equation and could render therapies ineffective over time. It is our intention to develop a triple antibody prophylactic and therapeutic agent that would shield health care workers and at-risk patients. This therapy is designed to be resistant to future virus mutations and, if approved, should be made available in support of testing, tracing, vaccination and other therapeutic approaches to allow for efficient management of viral infection by protecting those most at risk for up to two months at a time."
Sorrento is completing all IND (investigational new drug) filing requirements for the triple antibody combination therapy, and Sorrento said, it expects phase 1 trials of the treatment to commence in the third quarter of 2020.
Mount Sinai Health System is New York's largest academic medical system
Before the pandemic struck, Sorrento was working on opioid alternatives and oncology drugs.
'Antibody Expertise'
In a recent interview, CEO Ji said the COVID-19 target is very specific. "All we have to do is apply our antibody expertise and cell therapy expertise."
Other Sorrento treatments being worked on include COVI-Cell which mimics a dead cell eliciting a strong immune response from the body, COVIDTRAP a protein designed to block the SARS-CoV-2 virus from binding and infecting respiratory epithelial cells. It also helps produce enzyme activity that will help reduce hypertension which is an issue with COVID-19 patients, the company said.