Bank's Big Achievement: $480M in PPP Loans
Tuesday, May 19, 2020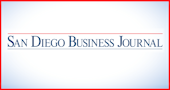 It took Bank of Southern California CEO Nathan Rogge 14 years to amass a $690 million loan portfolio. Then, in six weeks, he added nearly $480 million more to it. For Rogge and his bank, it is a story of incredible customer service and incredible service to the community.
Bank of Southern California, N.A, a community business bank headquartered in San Diego, announced recently that it has funded $480 million in Paycheck Protection Program (PPP) loans. These loans were provided to 1,972 local businesses affected by the coronavirus (COVID-19) with critical financing to retain or restore jobs for 51,910 individuals
Paycheck Protection Program provides small businesses with financial resources to maintain their payroll, hire back employees who may have been laid off, and cover applicable overhead.
The loans part of the CARES Act passed to deal with the pandemic and resulting economic shutdown. The first round was $350 billion and the second — targeted at smaller businesses — is for $310 billion.
Doing the Job
"I think we all work hard in our lives," said Rogge. "I don't think I've ever worked this hard in my entire career. I think most people in the bank say the same thing."
There were no weekends off. Easter was the only day off in five and a half weeks, the CEO said. "Everything was level loaded so if you were at one of the quieter offices, worked could be dumped on you. It was all hands."
"I'm impressed with people just in general," Rogge said. "You get a lot of pride when everyone is pulling together. It is hard to be spread out (working remotely) in Southern California and get the team to act like a team. It took a lot of esprit de corps in getting this done."
Where's the Tech?
Rogge said there were no technology shortcuts.
"What worked well for us was not using a lot of technology, if any, which was pretty much why small banks did better," Rogge said. "We knew the clients and followed a simple process. The big banks put your info into a portal and whoops it changed, whoops you need different documentation. How do you go back and do that for a million clients?"
"There are a thousand little things that in the future will be folklore, but they are tough to live through at the time," said the CEO."
Rogge said what often happened is people would go to a small bank after being frustrated with the lack of information at the large bank. Customers could be applying for a loan and find out they had already been approved.
"The Bank of Southern California did about 20-25 Small Business Administration loans a year," Rogge said. "So it is pretty crazy to do a couple thousand a month unfortunately using the same system, a crazy system that was already broken and a bit bruised. But if you think about it, $600 billion is being pushed through something that usually does $40 billion a year — pretty impressive."
All the hurdles were not machine driven. The SBA issued 45 clarifications over the last five weeks
Rogge said there has been no clarification on forgiveness process. Everyone is nervously waiting.
Rogge wants to remain the middleman. Because it has all been so opaque, I don't want to be the one to say 'yay' or 'nay' whether it turns into a loan.
Serving the Community
"We opened the door not just to existing clients, but to new clients as well," Rogge said.
Rogge did not limit loans to Bank of Southern California's customers. Serving the community has a "different dynamic that just feels better because you're giving."
"The bank is opening up a lot of new relationships," Rogge said. "It was not the intention, but it ends up a long-term benefit."
Rogge said PPP loans are still available. The initial push passed and potential publicity scared some people off. He doesn't see a third round.
However, he said Main Street loans could facilitate hundreds of billions of dollars of low-interest loans to a wide range of businesses.
The Bank
A growing community bank, established in 2001, Bank of Southern California, with headquarters in San Diego, is locally owned and managed, and offers a range of financial products to individuals, professionals and small-to-medium sized businesses. The bank currently operates eleven branches in San Diego County, Los Angeles County, Orange County, and the Coachella Valley in Riverside County.