Sempra Q1 Earnings Hit $760 Million, Revenue Is $3 Billion
Sunday, May 17, 2020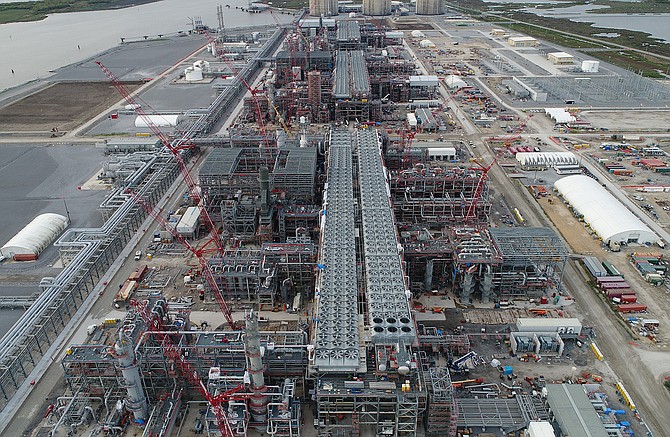 Sempra Energy reported earnings of $760 million on revenue of $3.03 billion in its first quarter, which ended on March 31.
The downtown-based firm, which delivers energy in several forms, posted adjusted earnings of $3.08 per share, much higher than the $2.26 per share anticipated by 14 analysts surveyed by Yahoo Finance.
Sempra (NYSE: SRE) reported its earnings before the stock market opened on Monday, May 4. Shares closed up 3½% that day, at $124.12.
In the same quarter one year ago, Sempra reported earnings of $441 million on revenue of $2.9 billion. Revenue grew 4½% year-over-year.
An Emphasis on Safety
"In the midst of a global pandemic, we are reminded that our employees face health risks in their daily lives and unique challenges in performing their jobs. That is why our first priority has been, and continues to be, the safety of our employees, customers and communities," said Jeffrey Martin, chairman and CEO of Sempra Energy, in a statement that accompanied the company's earnings news.
"We remain focused on advancing our strategic priorities and committed to delivering safe and reliable energy to over 35 million consumers, including the many hospitals and primary care facilities across our communities.
"Our strong financial results this quarter reflect the focused execution of our strategic plan," Martin also said. "We plan to continue to strengthen our balance sheet and maintain solid liquidity across our companies, while pursuing our disciplined growth plan."
The business just closed its sale of a utility in Peru, and said it is closing in on the sale of a Chilean utility. It is part of the company's shift to concentrate its business in North America. Buyers from China are paying cash for the South American businesses, and both sales are expected to bring Sempra $5.8 billion. Sempra said it plans to use proceeds from the sales to further strengthen its balance sheet and to help fund the company's capital plan. The corporation plans improvements to its utilities in Southern California and Texas.
Texas is a growth area. Sempra said its Texas utility, Oncor Electric Delivery Co., gained 18,000 more connections during the quarter, and that its transmission projects in Texas are progressing. Sempra plans to spend $11.9 billion on capital improvements in Oncor's service area in the next five years.
Sempra is also parent to San Diego Gas & Electric Co. as well as Southern California Gas Co.
In its earnings release, Sempra noted it recorded a $72 million charge related to the Aliso Canyon natural gas storage facility litigation at Southern California Gas.
LNG Investment Decision Delayed
Sempra is also putting an emphasis on developing export terminals for liquefied natural gas, or LNG, produced in North America. The business' Cameron LNG plant in Hackberry, Louisiana is bringing a third production line (or train) into full use.
In March, a Sempra business — Port Arthur LNG LLC — signed a fixed-price engineering, procurement and construction contract with Bechtel Oil, Gas and Chemicals Inc. for the proposed Port Arthur LNG liquefaction project in Jefferson County, Texas.
In a statement, Sempra said a final investment decision on the Port Arthur project is now expected for 2021 because of current market dynamics.
Saudi Aramco plans to use the plant and might take a 25% stake in it.
In other news, Sempra said that in April its California utilities filed a joint petition with regulators, asking to modify its 2019 General Rate Case.