Flyers Enterprises' Alpine Office Gets NASA Deal for Aviation Fuel
Sunday, May 17, 2020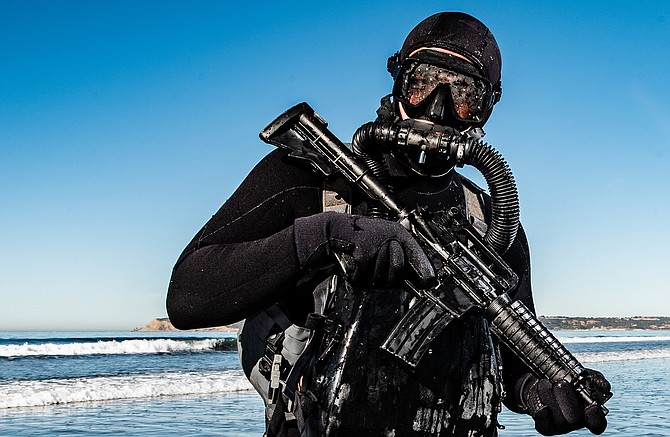 The following are selected defense contracts awarded to San Diego County companies in April and May. They have been announced by the U.S. Department of Defense or the contractor itself.
The Defense Logistics Agency awarded Flyers Enterprises Inc. of Alpine a minimum $45.6 million fixed-price contract for aviation turbine fuel to be used by NASA. This was a competitive acquisition with 39 responses received. The contract includes a base period of four years and six months, as well as one option period of six months. The location of performance is California. The deal runs through Sept. 30, 2024. In addition to the fixed price, the contract includes an economic price adjustment. The Defense Logistics Agency Energy of Fort Belvoir, Virginia, awarded the deal, announced on April 30.
Kratos Receives Saudi Navy Training Deal
The U.S. Navy awarded Kratos Defense & Security Solutions Inc. of San Diego a $16.1 million cost-plus-fixed-fee contract to support all levels of Royal Saudi Naval Forces training, logistical and advisory services. The deal supports the Naval Education and Training Security Assistance Field Activity — part of the U.S. Naval Education and Training Command. Work will be performed in various locations in Saudi Arabia, with 3% of the work performed in San Diego.
The contract will include a six-month base period with an additional three-month option period and a 15-day period for demobilization which, if exercised, will bring the total value to $25.6 million. The base period of performance is expected to be complete by November. If options are exercised, work will be complete by February 2021. Saudi Arabian funds in the amount of $16.1 million will be obligated at the time of award; such funds will be used under the Foreign Military Sales program. The Navy determined that only one contractor, Kratos, could realistically perform the work, so Kratos was the only company solicited for this sole-sourced requirement. The Naval Supply Systems Command, Fleet Logistics Center Norfolk, Contracting Department, Philadelphia Office, Philadelphia, Pennsylvania, awarded the deal, announced on April 30.
Kratos to Monitor Satellite Use for Space Force
Kratos Defense & Security Solutions Inc. announced on May 4 that it received a sole-source contract for satellite bandwidth utilization services. The base year of the contract is valued at $3.06 million. If the client exercises all four option years, the total value will be $19 million over five years.
Kratos (Nasdaq: KTOS) will provide continuous monitoring services of commercial satellites leased by the U.S. Space Force. Specifically, Kratos will provide 24-by-7 near-real-time performance monitoring data and bandwidth utilization assessment Radio Frequency (RF) monitoring services. RF data is the spectrum used by space systems to communicate with their ground systems. Kratos monitors the strength and characteristics of the signal, not the content. Bandwidth monitoring and utilization assessment and reporting services are required across all commercial satellites that are leased globally by the Space Force.
"The data collected from Kratos' global sensor network will enable the U.S. Space Force to understand their usage of commercial satellite communications and inform future acquisition strategies," said Frank Backes, senior vice president of Kratos Federal Space Group, in a statement distributed by the company.
Kratos' extensive network consists of global RF monitoring sites, hosting fixed and steerable sensors and antennas in the L, S, C, X and Ku bands. The bands are frequency blocks similar to television channels.
Training Contract Could Grow to $10M
Alion Science and Technology Corp. of Burr Ridge, Illinois received a contract that could be worth up to $50 million over five years. One-fifth of that work, valued at up to $10 million, will be performed at Naval Air Station North Island. The indefinite-delivery, indefinite-quantity contract provides non-recurring engineering and logistics support for live, virtual and constructive (aka LVC) training systems based on networked personal computers.
The LVC Integrated Training System is designed to support integrated and coordinated tactical training and simulation. Additionally, this contract procures the current training system configuration comprised of PCs with each PC system representing a mission training station in a particular aircraft (for example, an SH-60B or SH-60F Seahawk helicopter or a P-3C Orion aircraft), shipboard system or combat systems which, when in a networked environment, allow for integrated mission training.
Work is expected to be complete by April 2025. One company bid on the work. The Naval Air Warfare Center's Training Systems Division in Orlando, Florida, awarded the contract, announced on May 1.
Three Cos. to Serve Special Operations Command
Three San Diego County companies are among 46 businesses selected to provide unspecified core support services to the U.S. Special Operations Command. They are R3 Strategic Support Group Inc. of Coronado, Solute Inc. of San Diego and T3i Inc. of Imperial Beach. Up to $950 million will be split among the 46 contractors under the indefinite delivery, indefinite quantity deals. Contracted subject matter expertise and knowledge-based services will support education, training, engineering, technical, professional, administrative, management support, program management and other requirements. The U.S. Special Operations Command of Tampa, Florida awarded the deals, announced May 1.
R3 issued a statement saying, "We are thrilled to have the opportunity to provide innovative strategic solutions in support of the USSOCOM mission."
Northrop Grumman to Integrate Infrared System
Some $2.47 million worth of work on the Navy's Large Aircraft Infrared Countermeasures system will flow to Carlsbad. The Navy awarded Northrop Grumman Corp.'s Rolling Meadows, Illinois, office a $123.6 million modification to a previously awarded fixed-price contract. The deal procures the hardware, systems engineering, technical support, analysis and studies to integrate the infrared countermeasures system onto aircraft for the Navy, U.S. Army, U.S. Air Force and the governments of Norway and New Zealand.
The system functions by automatically detecting a missile launch, determining if it is a threat and activating a high-intensity laser-based countermeasure system to track and defeat the missile. At the heart of the system is Guardian Laser Transmitter Assembly; the contract calls for Northrop Grumman to deliver 75 such lasers, plus containers for shipping, among other hardware.
The Naval Air Systems Command of Patuxent River, Maryland, awarded the contract, announced on May 1.
Shares of Northrop Grumman trade on the New York Stock Exchange under the symbol NOC.