Food Bank Increases Its Fight Against Hunger
Originally published May 11, 2020 at 5:30 p.m., updated May 11, 2020 at 5:30 p.m.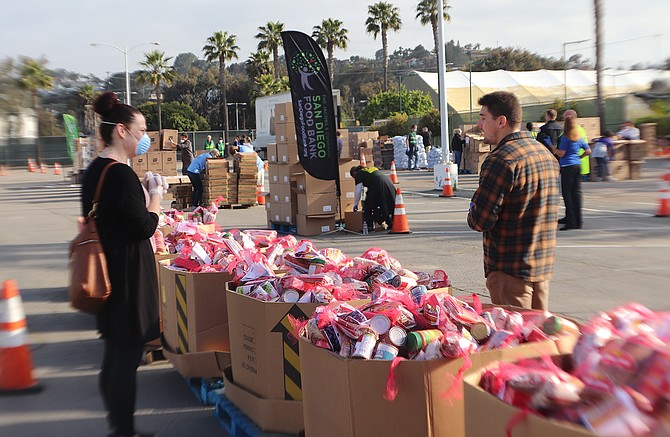 In the last eight weeks, Jim Floros, the president and CEO of the Jacobs & Cushman San Diego Food Bank, has worked 14-hour to 15-hour days and has taken a total of three days off.
That's because for Floros – and for his 70 employees and 20,000 volunteers – the mission to end hunger in San Diego and to feed those in need has gotten a lot harder since the novel coronavirus crisis hit. With nearly 50,000 local workers having lost their jobs in March and April due to COVID-19, according to the San Diego Workforce Partnership, the number of those in the county that are food insecure has dramatically amplified.
Needless to say, the San Diego Food Bank has got its work cut out. Floros, with a degree in International Relations from the University of San Diego and with 36 years of experience in the nonprofit sector and 26 years serving as a CEO, said the organization has the right people and the business model in place to meet the demand.
600,000 People a Month
Usually, Floros said the Food Bank purchases about
$1 million worth of food to donate a year. In the last eight weeks, it has bought $2 million worth, with another million-dollar purchase already in the works.
"Before COVID, we fed about 350,000 people a month," said Floros. "After COVID, that number is somewhere around 600,000. Last year, we distributed 32 million pounds of food. And, before COVID, we were tracking to do 38 million. Now, we will easily reach 50 million."
Calm Resolve
The pressure of feeding that amount of people could have caused high levels of panic. Instead, Floros said he and his team were immediately overcome by what he referred to as "calm resolve." He said what they quickly realized was that they weren't concerned about their own potential fear of not delivering, but the community's fear of not receiving.
"We were the buffer between the community working through this and complete pandemonium, with people freaking out about running out of food," he said. "Right out the gate, all of the messaging to the community was, 'this is what we do, this is what we signed up for, our mission and our distribution model is very solid. We got this.'"
Distribution Models
With two warehouses, a 90,000 square foot one in Miramar and another in North County at 30,000 square feet – and now a third, 60,000 square foot Miramar location that is being temporarily used during the crisis – the Jacobs & Cushman San Diego Food Bank works through two distribution models. One is through food donations to its 500+ non-profit partners, like The Salvation Army, San Diego Rescue Mission and Jewish Family Service. The other is providing food directly to the community via 200 distribution sites throughout the city and two contracted USDA (United States Department of Agriculture) government programs.
The two programs are a "Senior Program," said Floros, through which 36 pounds of food is donated to 13,000 elderly community members every year. The other is the "Emergency Food Assistance Program", which services 80,000 to 100,000 people a month with bags of 12 to 15 food items each, he said. To receive the latter, recipients must meet federal income guidelines, said Floros, adding that everyone currently not receiving a paycheck as a result of the pandemic qualifies.
Mobile Pantry Program
Additionally, Floros said the Food Bank has augmented its "Mobile Pantry Program," which travels to different locations around the county, like its various school district partners, and distributes food in bulk at their feeding sites.
With an operating budget of about $52 million a year, food and cash donations made to the Food Bank come from different sources, said Floros, including food drives, corporate sponsors, individuals that support the cause as well as bulk purchases made by the organization itself. Some of its corporate partners include Qualcomm, San Diego Gas & Electric, Bank of America, Wells Fargo and Mission Federal Credit Union, among a hefty list of others. Most if not all of them, Floros said, are currently running "Matching Programs" with the Food Bank, through which they match donations made to the organization during a period of time.
Long-Term Partners
Bank of America San Diego Market President Rick Bregman said the company has worked with the San Diego Food Bank since 2008.
"The Covid-19 crisis has compounded the number of people in San Diego faced with food insecurity—an overwhelming percent of which are children," he said. "The San Diego Food Bank did a tremendous job immediately recognizing the need—distributing 65% more food, the equivalent of an additional one million pounds—to those in need since the crisis began. This nearly doubled the number of San Diegans served. Private sector support is critical to help get us through these unprecedented times together."
Serving the community for more than four decades, what has helped the organization fulfill its mission, according to Floros, is precisely the relationships it has developed over the years with donors and corporate sponsors. Because of these connections, he said, these long-term partners reached out to the Food Bank asking how they could help during the crisis instead of the other way around.
It has been overwhelming and gratifying, said Floros, to see how San Diegans have rallied behind the community during this time of need.
Now, as the county unemployment numbers pass Great Depression levels, according to the San Diego Association of Governments (SANDAG), estimated to have risen to 26.8% amid the coronavirus pandemic, Floros and his team are in this for the long haul.
Developing Strategies
"We know this is not a sprint, this is going to be a marathon," he said. "If we slip the switch and turn it all on tomorrow, the recession we are waiting for is now here and we will be planning for so many more people to be food insecure in the next couple of years. But we are developing strategies. We will continue to work with our nonprofit partners, our stake holders, and we will continue to purchase food."
In the meantime, Floros will continue to run on fuel and maybe, one day, rest on his laurels.
"If you think about life, it all ends the same way for everyone. What you do with your journey is what your legacy will be," he said. "If you do something bigger than yourself and make the world a better place. I believe in that. It sounds corny, but that is what drives me."