Approval of MS Drug Adds To Scripps' String Of Victories
Wednesday, May 6, 2020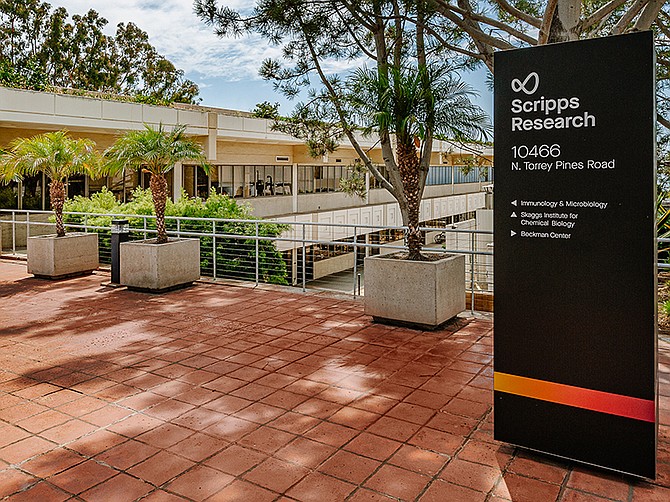 The U.S. Food and Drug Administration recently approved ozanimod, an immune-modulating therapy invented at Scripps Research, for the treatment of adults with relapsing forms of multiple sclerosis.
Scripps said the drug is also in advanced clinical development for adults and children with moderate-to-severe ulcerative colitis and Crohn's disease.
In patient studies supporting ozanimod's New Drug Application, those who took the once-daily oral medicine experienced significantly less disease progression — including fewer relapses and preservation of the brain from atrophy — than those who received standard care, with very few side effects. The drug, licensed to Bristol Myers Squibb will be sold under the trademarked name Zeposia, Scripps said
The "FDA approval of ozanimod is a celebratory milestone for the multiple sclerosis community, which is in need of new, intelligent drug interventions to help patients control the progression of their disease," said Hugh Rosen, M.D., Ph.D., who invented ozanimod along with fellow Scripps Research professor Edward Roberts, Ph.D., and their laboratory colleagues.
1 Million With MS
Nearly 1 million people in the United States are living with multiple sclerosis, according to the National MS Society, and approximately 85 percent of those patients are diagnosed with the relapsing forms of the disease that ozanimod is designed to treat.
In multiple sclerosis, the immune system mistakenly attacks myelin sheath, the protective layer that surrounds nerves in the brain. This disrupts the flow of information within the brain and between the brain and body, bringing about symptoms that can range from numbness and bladder issues to vision problems and muscle paralysis.
According to Scripps, ozanimod works by acting on certain types of immune cells called lymphocytes that are centrally involved in the autoimmune attack on myelin sheath. It binds to receptors on the cells' surface, keeping them from reaching the brain. As a result, the number of activated lymphocytes is decreased, diminishing the immune attack.
A Long-Term Benefit
How does ozanimod lineup with most recent MS drugs?
"The MS market has expanded and has become much more competitive," Rosen said. "Ozanimod is well tolerated in two-year studies on MS, and provides outstanding efficacy, while protecting the brain from gray matter thinning (atrophy), as a single daily dosed capsule, with no requirements to monitor early dosing. A well-tolerated disease modifying drug offers patients and their physicians a new, and additional outstanding option. Many MS patients (up to 20% per year) change from their existing treatments to try new treatments because of the inadequate disease suppression or because of significant side effects. We hope that patients will find the availability of ozanimod a long-term benefit."
The fundamental discoveries that led to ozanimod were reported by Rosen, Roberts and their Scripps Research colleagues in a series of papers from 2002 to 2008. In 2009, Scripps Research licensed ozanimod to biotechnology startup Receptos, which Celgene purchased in 2015 for $7.3 billion. Celgene was acquired by Bristol Myers Squibb in 2019.
Rosen was asked for observations on the business side of pharma. "It takes inventors to invent and companies to develop and commercialize," said Rosen "We focus on the inventive steps, and early development. As companies get the funding to pursue advanced clinical development with costs running in the many hundreds of millions of dollars, the role of inventors usually diminishes, We move on to new inventions and new startups at that point."
'A Wonderful Alignment of Interests'
"If patients do well, Scripps Research will do well," Rosen said. "It is a wonderful alignment of interests."
According to Rosen, "publication of the drug's mechanism was in 2002. Roberts and Rosen started to work together in 2006. Ozanimod was synthesized and characterized in July of 2008."
Things don't happen quickly or cheaply in drug development.
Ozanimod is also being studied as a treatment for forms of inflammatory bowel disease, with late-stage clinical trials underway for ulcerative colitis and Crohn's disease, for which it is a first-in-class treatment.
Franchise in a Bottle
Rosen discussed the drug's uses. "We look for fundamental mechanisms that can modify disease processes," Rosen said. "The concept of ozanimod was for a well-tolerated immunomodulator that could be disease modifying for a variety of disabling autoimmune diseases. MS was the first, inflammatory bowel diseases are the next indication. We look at ozanimod as a franchise in a bottle. Work at Scripps Research has shown that ozanimod can inhibit the amplification of cytokines especially Interferon-a and, thus, protect from maladaptive immune responses that damage tissues.
"This mechanism likely applies to the other diseases including systemic lupus erythernatosis (SLE), immune myositis, as well as infectious diseases with immune damage. Important data on the suppression of cytokine storm has been shown for the H1N1 2009 pandemic influenza, for a model of Respiratory Syncytial Virus and in animal model studies of leaky lung in SARS infection. Bristol Myers is in discussions to perform clinical trials to repurpose ozanimod for COVID-19 infection."
The ozanimod approval for multiple sclerosis is the latest in a string of FDA-approved drugs to originate from Scripps Research's laboratories, following on most recent approval of tafamidis for the rare but often fatal heart disease known ATTR-CM.
The Drugs
Scripps Research also invented drugs that have been brought to market to treat more than a dozen other conditions with major unmet medical needs, including arthritis, lupus, respiratory distress syndrome, gastric cancer, metastatic non-small cell lung cancer, hemophilia, anthrax inhalation and neuroblastoma. Additional drugs are in development for more than 10 other conditions, ranging from osteoarthritis to Parkinson's disease, with several in clinical trials, according to Scripps.