Organizations Offer Businesses Time, Money
Tuesday, March 31, 2020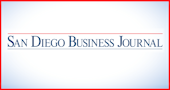 San Diego business owners have two things foremost on their minds as they deal with the economic fallout from the coronavirus pandemic – the first is concern for employees, many of whom have been laid off or had their hours cut, and the second is securing capital to pay their bills.
"What we're seeing is a panic for cash flow, for payroll, rent, and to survive," said Danny Fitzgerald, associate regional director with the San Diego and Imperial County Small Business Development Center network. "We're hearing from those that are in dire straits."
The network, which provides support for local businesses under contracts with the U.S. Small Business Administration and the state of California, has been inundated with calls since state and local officials ordered schools and non-essential businesses to shut down and residents to stay home.
Tourism and hospitality businesses, including restaurants, were initially hard-hit by the slowdown as people stopped traveling and dining out, but the effects are spreading out to other sectors of the economy, from printers and florists to gyms and movie theaters.
The network's call volume has increased "tenfold, and we were busy before," said Fitzgerald. The network operates eight offices in San Diego and Imperial counties, but those have closed since the crisis began, and the organization now offers its counseling services online and by phone.
The SBDC's counselors are helping business owners apply for disaster recovery loans through the U.S. Small Business Administration, and from other loan sources, said Fitzgerald. That advice includes how much to ask for, and what to do if they are initially declined.
Businesses should also evaluate their cash flow needs to determine how long they can survive, and contact creditors and landlords to request deferrals on loan payments, rent and other expenses, Fitzgerald said.
Along with the SBA disaster loans, he said, the state offers disaster loans to small businesses, which are guaranteed up to 95 percent, through the California Infrastructure and Economic Development Bank (IBANK).
The city of San Diego has announced a $4 million small business relief fund, while the San Diego Foundation and a coalition of public agencies, nonprofits and companies has established a community response fund, which has grown to $6.2 million and will help workers hit by the economic slowdown with payments for food, utilities and rent.
A $2 trillion relief package working its way through Congress last week promised additional aid, from direct cash payments to individuals and families to small business loans to a $500 billion corporate bailout fund.
In an effort to gather information about the impact of the coronavirus crisis on the local economy, the SBDC network, the San Diego Regional Chamber of Commerce and the San Diego Regional Economic Development Corp. have sent out a survey to businesses.
As businesses seek assistance to keep their doors open or to simply survive until the economy picks up, the San Diego office of the SBA has seen its call volume spike, said Mike Sovacool, the agency's deputy district director.
The agency had an initial $50 billion to work with, said Sovacool, and it has already begun approving loans, with early recipients including at least one San Diego business, Sovacool said.
"The process is working," Sovacool said.
Sovacool and officials with business groups in San Diego suggested that loan applicants familiarize themselves with the application form and required information before beginning the online loan application, which can be found at www.sba.gov.
Along with funds for the loans, the SBA has received funding for staff and infrastructure improvements to handle disaster loan applications from around the country, Sovacool said. "The SBA is ramping up to meet demand for the program."
The wave of applications for disaster assistance has led to slowdowns of the SBA web site. Sovacool suggested applicants might find it easier to access the web site during off-peak hours, after 6 p.m. or before 8 a.m.
"There are some system challenges but they're going to get fixed," he said.
The agency's goal is to process loan requests within two to three weeks, and in the early stages of the crisis, he said, some applications have been approved in as little as three days.
"The entire SBA and its resource partner network and lending institutions, they're all here to help (small businesses) get through this disaster," Sovacool said.
Business groups throughout San Diego County are working, in most cases remotely, to assist companies in dealing with the crisis, whether it's answering questions about workplace issues, putting out information about resources on their web sites, or offering support and encouragement.
The South County Economic Development Council established a $250,000 loan fund to provide 50 loans of $5,000 apiece to South County restaurants struggling after San Diego County health officials ordered all restaurants to close their dining rooms and serve food only for takeout or delivery.
Restaurant owners in South County are "desperate to know how to keep their doors open," but in spite of the economic situation, there is a sense of unity and shared purpose, said Cindy Gompper-Graves, president and CEO of the South County EDC.
Gompper-Graves said the loan application form is only one page, meant to streamline the approval process, and the first checks went out on Tuesday, March 24, less than a week after the loan program was announced.
"I still have funds left, once I get through today, we will have 20 to 25 loans available. I'd be happy if we could give all this money to the restaurants and they stay open to serve the community during these trying times," Gompper-Graves said.
The story is much the same in the East County, where businesses are scrambling to meet their expenses and avoid laying off employees if they can, said Jo Marie Diamond, president and CEO of the East County EDC.
The group is working with business owners in different ways, helping them connect with lenders and advising on how to keep their operations going virtually, as workers stay at home and carry out their duties while caring for children and attending to household matters.
"We're all mobilizing to the best of our abilities, but it's some scary times," Diamond said. "We'll come through this, it's just a question of when."
Debra Rosen, president and CEO of the North San Diego Business Chamber, said she's been impressed with the creativity shown by businesses as they keep in touch with customers and even broaden their reach online. Such as 24 Hour Fitness centers that have closed their physical locations, but are putting workout videos online through a free app.
"People are looking for unique ways to stay engaged with their customers," Rosen said.
One way the public can support local businesses, said Rosen, is by buying restaurant gift cards, providing them with a much-needed cash infusion while also getting an early jump on holiday shopping.
Along the Convoy corridor in San Diego, businesses owned by Asian-Americans were among the first to feel the economic pinch due to the stigma surrounding Asian people after the coronavirus outbreak began in China, said Wesley Quach, director of the Small Business Development Center operated by San Diego's Asian Business Association.
"It's a fact that not just Asian-Americans but Asians around the world have experienced increased prejudice, racism and threats because of this," Quach said. As early as January and February, local Asian-owned businesses experienced a drop-off in customers.
While some restaurants have tried to stay open during the crisis, others are geared more toward an in-person dining experience and have closed temporarily and laid off workers, Quach said.
That said, businesses along the Convoy corridor are also trying new and different ways to connect with the dining public. Last week, he said, the Dumpling Inn-Shanghai Saloon hosted a "mukbang," an online event in which a host on Instragram samples different foods and talks about them while chatting with observers. The practice began in South Korea, and has become a worldwide trend. The name means "eating show" in Korean. About 100 viewers took part in the online event, Quach said.
Businesses are also helping each other, as well as displaced workers, through the crisis. Jerry Sanders, president and CEO of the San Diego Regional Chamber of Commerce, said a gastro pub based in Barrio Logan served meals for displaced restaurant workers, dishing up some 700 plates the first day and pledging to keep going until its food was gone.
"One of the hallmarks of San Diego is the fact that we take care of each other," Sanders said.
Going forward, the San Diego business community will be gathering information from business owners to target its efforts to where help is most needed, said Mark Cafferty, president and CEO of the San Diego Regional EDC. In the first week since its business impact survey went out, Cafferty said, some 500 responses have come in.
San Diego's industry sectors are rising to the occasion, said Cafferty, from hospitals and healthcare providers, to communications companies making sure the city is connected, to biotech companies racing to find a vaccine for the coronavirus.
"From science to healthcare to technology, to other elements of our economy, they are trying to make a difference, it's really impressive," Cafferty said.