Local Cos. Pivot to Assist In Crisis
Tuesday, March 31, 2020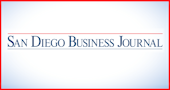 Two San Diego-based startups, along with a vodka distillery, and biotech company — Classy, CloudBeds, Misadventure and Co., and Biolinq — have temporarily pivoted their business to assist the region and nation amid the pandemic.
Over the past few weeks, news around the coronavirus situation has been grim, however local groups and advocates ranging from city officials to startups to economic development organizations are rallying together to help those with urgent needs.
Neal Bloom, local entrepreneur and chairman of Startup San Diego said it's amazing to see startups utilize their business to help in any way they can. As the host of a startup slack group, he said more than 2,000 community members also jumped into action by creating a #COVID-19 channel to share resources and act as a support system for one another, he said.
"From Cloudbeds providing access to beds, Misadventure Vodka turning their production to creating hand sanitizer, and Classy turning on the philanthropy machine. This isn't surprising as, San Diego's culture is give before you get."
Here are a few examples of San Diego's superhero companies that are taking swift action to offer innovative solutions to assist the region during the time of this crisis:
Using Tech Platform to Source Donations
Classy, a creator of online fundraising software for nonprofits, last week set up a philanthropic campaign for nonprofit organizations that are responding to the outbreak and mobilizing resources for coronavirus relief.
Ryan Ross, head of channels and alliances of Classy said "If we don't do our part now, the income, healthcare, and education inequalities we have today will only get worse. Now is the time for those with resources to spare, to stand up and support those in need."
Contributors have the option to donate to a variety of different causes that relate to the pandemic including testing and treatment, medical supplies, local training and trevention measures, food distribution, among others.
Connecting Healthcare and Government Agencies to Beds
Prominent hotels across San Diego County are starting to temporarily close their doors in the wake of COVID-19, causing their normally high occupancy rates to plunge to record lows.
CloudBeds, a local hotel tech startup – also raised the biggest venture capital round this year – is using its staff and its lengthy list of hotel customers to help find available rooms and beds for COVID-19 patients.
Founder and CEO of CloudBeds, Adam Harris said "With each passing hour, we face an ever more acute shortage of available beds for the sick, and for health professionals who are fighting coronavirus. At the same time, we are seeing many lodging providers reducing occupancy or sitting empty altogether."
The response to the program has already been overwhelming. According to the company's website, over one million beds have been pledged by lodging providers so far.
This is no surprise as beds are in high demand right now as field hospitals, global quarantines, and health professionals are being called into action from all corners of the globe.
Pivoting to Hand Sanitizer Production
As the nation faces a shortage of essential supplies, including sanitizing solution, distilleries around the country are stepping up and shifting their production from spirits to sanitizing agents.
Misadventure & Co., a microdistillery is working to produce large orders of sanitizer for local clinics, hospitals, veterans groups, and local governments. Moreover, the company has already donated over 200 bottles to the United States Bartenders Guild.
"Our mission has always been to play a part in creating a better world, and now this is the best way we can help. Maintaining sustainable practices – as we did with our carbon-negative vodka – will always be a part of what we do as we continue on our mission. Stay positive. We will all get through this!" said co-founders, Whit Rigali and Samuel Chereskin.
The distillery, which usually produces a vodka from surplus baked goods, is focusing all of its efforts on manufacturing the spray, according to the company. The product is made following the World Health Organization recommended formula.
Priced from $7 to $24 and customers can currently purchase bottles of the sanitizing spray online. State, federal or medical agencies that need liquid or gel sanitizer in bulk are recommended to get to reach out through email.

Providing Gear to Healthcare Centers
Biolinq Inc., a biotech company and maker of wearables that measures blood level information is donating all its unused protective gear to local healthcare centers.
In addition, the company is asking other local biomedical companies who have extra protective gear to join and distribute excess gear to health care providers that need it most.
Chief technology officer of Biolinq, Joshua Windmiller said "We are asking the region's biotech, medtech, and life sciences institutions to donate in kind to curtail the proliferation of COVID-19, thereby fulfilling their respective ambitions to make positive inroads to the betterment of healthcare for all."
Founded in 2012, the company said its working on an exciting new biosensor that will make life for people with diabetes easier, safer and more balanced.
All in all, despite the financial and social turmoil caused by the coronavirus pandemic, the positivity that has sprouted from this adversity serves as a silver lining, with local businesses looking out for each other during times of trouble.
More information and continuing updates on how local businesses are currently assisting in the COVID-19 crisis are available on the San Diego Business Journal website: www.sdbj.com.