Inseego, Turtle Beach and RF Industries Post Financial Results
Monday, March 30, 2020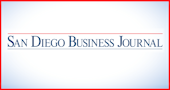 Three small and midsized electronics companies released results from the quarter that included December 2019 … and it was a mixed bag.
RF Industries Ltd. saw its revenue climb, and basically broke even during the quarter ended Jan. 31. The Miramar-area company sells cables and connectors to clients such as telecom carriers.
Inseego, the business formerly known as Novatel Wireless, saw its revenue go up but its net income go down. The business serves both businesses and consumers, and is trying to catch the wave of 5G wireless technology.
Turtle Beach Corp. posted a strong fourth quarter — which makes sense for a business selling videogame headsets to consumers. The fourth quarter is always strong for retail.
All of the businesses are publicly traded and were not immune from the bear market of March 2020.
RF Industries Breaks Even
RF Industries reported net sales of $12.4 million in the quarter ended Jan. 31, up 17% from $10.6 million in the year-ago quarter. Net income was $26,000, down from $640,000.
"Our first quarter is typically our lightest quarter," CEO Robert Dawson said in a statement.
Shares in RF Industries traded for about $6 at the end of February and saw a low of $3.31 on March 18. Their 52-week high was $8.90.
Inseego Gets Private Placement
Inseego announced a $25 million private placement from Mubadala Investment Co. on March 10. The company issued preferred stock to Mubadala, which is based in Abu Dhabi, United Arab Emirates.
For the fourth quarter, Inseego reported revenue of $52.3 million, down from $56 million in the same quarter one year ago. Net loss was $13.3 million. In the same quarter of 2018, net loss was $4.1 million.
"2019 was a year of historic progress for Inseego," chairman and CEO Dan Mondor said in a statement. "We launched our first-to-market 5G products, recognized nearly $11 million of 5G revenue and signed 5G product agreements with leading mobile network operators in North America, Europe, the Middle East and Asia Pacific, exceeding our target for the year.
Inseego shares, trading at about $7 at the beginning of March, dipped to the $4 range in mid-March and gained ground, closing March 25 at $6.24, according to Yahoo Finance.
Q4 Is Good to Turtle Beach
Headset maker Turtle Beach reported Q4 net income of $20.4 million on revenue of $101.8 million.
"As indicated in our pre-announcement, our 2019 sales were the second highest in our history, with 2019 playing out close to our expectations," said Juergen Stark, CEO of Turtle Beach, in the March 10 earnings announcement. Total sales in 2019 were $234.7 million, down from $287.4 million the prior year.
"While we expect the console gaming market to be soft as consumers prepare for Sony and Microsoft's new consoles slated to launch this fourth quarter, we expect the market to return to growth in 2021."
The company was not immune to March's sell-off. Shares were trading in the $5 range on March 25, down from $6.61 on Feb. 28.