Construction Jobs in CRE Are Expected to Return After Pandemic
Monday, March 30, 2020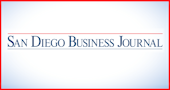 San Diego County commercial real estate construction jobs hit their highest mark since the Great Recession in 2019 prior to the coronavirus pandemic and are likely to resume an upward trend post-pandemic, according to the commercial real estate brokerage JLL.
"Any economic slowdown is going to have an impact, but one of the strengths of the nonresidential construction labor market is that projects typically have longer timelines, so we would expect a big lag before seeing any major impacts on labor," said Henry D'Esposito, a senior research analyst with JLL.
"When work picks back up on ongoing projects, that demand should support much of the same workforce as prior to any government ordered pauses," Esposito said. "If there were longer term economic implications, the impacts on the construction labor force would become more severe over time."
Holding On to Key Workers
Kenneth Simonson, chief economist of the Associated General Contractors of America, said he didn't expect construction companies to start shedding jobs as they did in the Great Recession.
"Although construction firms don't typically have large reserves to pay idled workers, I suspect most firms will try to hold onto key workers as long as possible," Simonson said. "The industry has had a hard time filling positions in the low unemployment environment of the past several years."
JLL, in its review of the 2019 construction job market, reported that the total number of San Diego County construction jobs exceeded 90,000 for the first time since the Great Recession.
In 2019, 8,600 construction jobs were added in San Diego — the largest year-over-year increase in 20 years, according to the firm.
"Prior to COVID-19, the outlook for construction jobs was strong. We expected both total construction employment and average construction wages to continue the steady increases recorded over the last few years," Esposito said. "We also expected unemployment to hit record lows in the summer months of 2020 when work is typically busiest."
Pat Ashton, a senior research analyst with JLL, said San Diego's strong life science and high technology companies have been in big drivers in commercial real estate projects responsible for the rise in demand for construction workers.
'Full Expansion Mode'
"Life sciences and technology companies are in full expansion mode, increasing job growth and footprint within the San Diego market," Ashton said. "Real estate developers have responded to the high demand with developments like the new Aperture campus and One Paseo."
Others pushing the demand for space, hence construction employment, are so-called "innovation companies," logistics and e-commerce industries.
They are "seeing growing demand as well," Ashton said.
He cited the new 533,000 square-foot Vantage Point campus that Ryan Cos. and DWS Group is building in Poway as an example.