Stockdale Secures $330 Million Loan for Horton Plaza Project
Sunday, March 29, 2020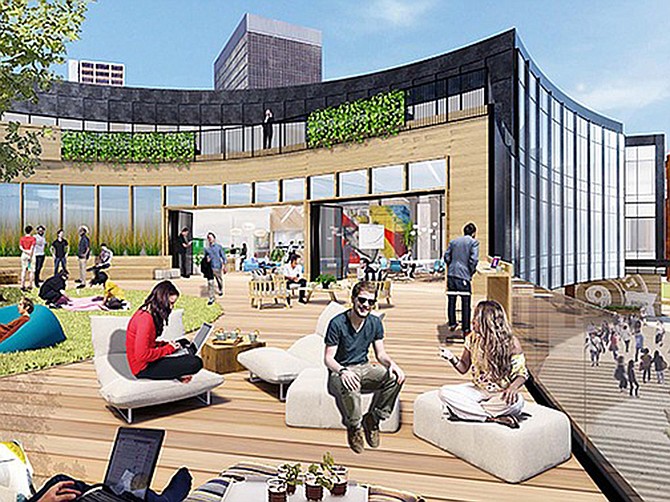 Horton Plaza was pioneering property when it opened Aug. 9, 1985 in downtown.
Now, thanks to a $330 million loan secured by Stockdale Capital Partners with a group of funds managed by Alliance Bernstein, the property will once again be taking a bold step forward.
Renamed The Campus at Horton, the redeveloped mall will include 700,000 square feet of office space and 300,000 square feet of retail.
Design work on the 10-acre project is being led by Retail Design Collaborative and Rios, Clement Hale.
"The Campus at Horton will be the pinnacle of mixed-use campuses in downtown and the exemplification of what's possible when innovative office design meets access to leading food, beverage, health and wellness offerings," said Steven Yari, a Stockdale management director.
Stockdale plans to convert the mall — which sparked development of the Gaslamp Quarter — into a mixed-use development centered on new offices.
In January, Stockdale reached a settlement of a lawsuit that had been filed by Macy's department store. The company said Stockdale had violated the terms of its lease with the redevelopment plans that shifted the mall's emphasis as a retail center.
Macy's sued Stockdale Capital Partners in October arguing that Stockdale's plans to turn the shopping center into a mixed used development centered on new offices development violated Macy's lease.
Stockdale's plans would reduce retail space in the mall from the 600,000 square feet that was required in deed restrictions to 300,000 square feet to make room for offices.
Stockdale acquired the mall in 2018 from Westfield for $175 million.
With all major entitlement hurdles behind us and this financing now secure, we look forward to completing our redevelopment and revitalizing this incredible asset," said Daniel Michaels, a Stockdale managing director. "We are moving full steam ahead with leasing discussions and to announce a mix of exciting and impactful tenants shortly."
The development could bring some welcome office space the mix of apartment and condo towers, whose tenants often commute to places such as Sorrento Valley and UTC. It is estimated that about two-thirds of the people who live downtown commute to work elsewhere.
"People are very focused on getting jobs downtown, and that's what this does," said Daniel Michaels, managing director of Stockdale Partners, in an interview last year. The design was in flux at the time but there was general agreement that the fortress like shopping mall needed to open up to become more inviting and take advantage of the natural light.
With the Gaslamp Quarter offering entertainment and a plethora of dining options, it only further pushed the mall toward irrelevance.
The idea of an infill mall is largely obsolete," Michaels said.