Project Moving Ahead Despite COVID-19
Sunday, March 29, 2020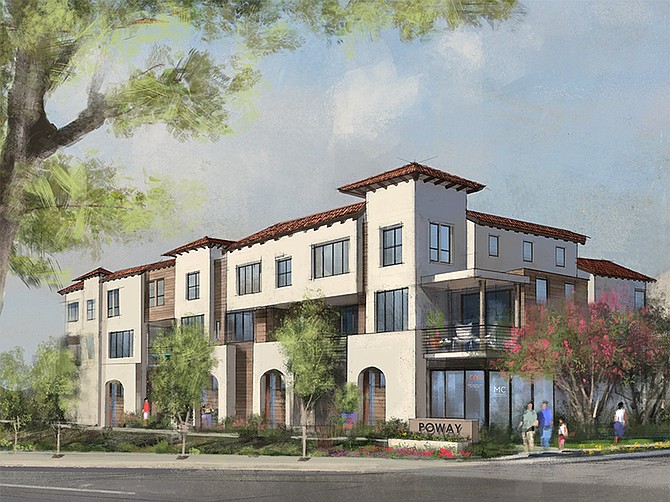 Despite uncertainty caused by the COVID-19 virus, a Scripps Ranch developer is moving ahead with plans to build a residential project in the center of Poway.
"Contractors are gearing up and getting ready," said Guy Asaro, president and CEO of Meridian Communities.
Meridian Communities has teamed up with IHP Capital Partners on a project that will include 97 townhomes for sale and a 44-apartment affordable rental project.
The affordable apartment portion of the project will be built by Chelsea Investment Corp. of Carlsbad, Asaro said.
The for-sale town homes are geared toward middle-income buyers, which Asaro said is a neglected market in Poway.
The city has "a large population of high-end housing," Asaro said, but not much for others.
The townhomes Meridian plans to build would sell for the mid- $400,000s to the mid-$600,000s.
Likely buyers are empty-nesters who want to downsize and first-time home buyers, Asaro said.
"These opportunities have not been available to them in this submarket," Asaro said.
Jeff Enes, senior vice president of IHP, said the townhomes are priced at a level below the county's FHA (Federal Housing Administration) loan limits.
Enes said the project "will provide more prospective buyers the potential for loan qualifications and the opportunity to realize home ownership."
Designed by Woodley Architectural Group of Santa Ana, the project would have two for-sale townhome buildings with individual townhomes ranging from about 1,200 square-feet to 1,400 square feet with one penthouse condominium unit of about 2,200 square feet atop the smaller of the buildings, Asaro said.
Each townhome will have a two-car garage.
The buildings themselves are meant to reflect the look of the nearby civic buildings, Asaro said, reminiscent of those designed by noted San Diego architect Irving Gill.
"We used architecture very similar to that of the city administration building and that of the public library, he said, said that the color scheme will be muted beige and grays.
"We tried to stay in that same context both in design and color," Asaro said.
The 2.2-acre site is near the Poway Civic Center, the Poway Community Center and the Poway Branch Library at the intersection of Poway Road and Civic Center Drive.
"We're truly building a walkable community adjacent to some very strong public and social amenities," Asaro said.
Asaro said he was attracted to Poway because the city "is a huge economic engine with the Scripps Poway Business Park with over 9 million square feet of commercial businesses in that park."
Work on the Meridian/IHP Capital project is set to being in late April with the demolition of several vacant buildings, followed by grading in May and vertical construction in September.
The townhomes should be ready for sale in the first quarter of 2021.
"We hope the schedule stays intact, Asaro said, but he said the developers are ready to change it depending what happens with the virus.