County's Storied Craft Beer Industry Reacts, Adjusts, Plans
Sunday, March 29, 2020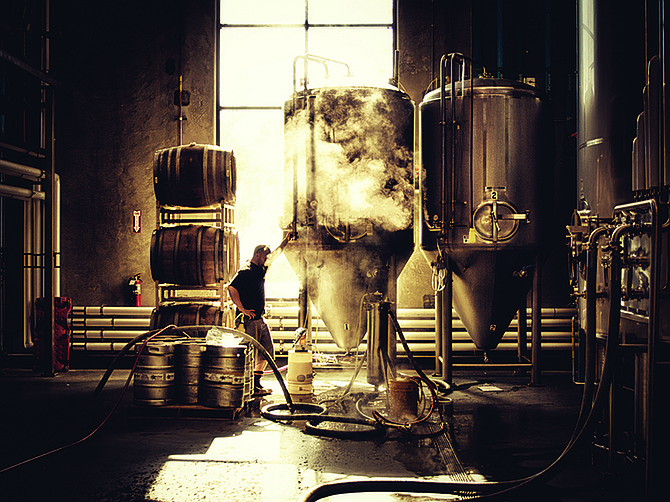 Kris Anacleto can't speak on the phone for too much longer. In a few minutes, the executive has to put down his handset and help out on the canning line.
"We're canning way more beer than normal," said the general manager and co-owner of Booze Brothers Brewing Co. in Oceanside. It's going to be 3,000 cans. The business has no other option for the beer in its tanks, which under normal circumstances would go into kegs.
But it's March 25, 2020. With Californians ordered to stay at home to thwart the coronavirus outbreak, these are not normal times.
In addition to his day job, Anacleto is president of the San Diego Brewers Guild, which is a hub for the city's craft brewing sector.
The guild has 130 members. "I think everyone's in a bit of stress right now," Anacleto said. "We're taking it day by day."
Large companies have some avenues that a lot of the small members don't, he said, including sales to grocery stores. "The rest, the majority of us are kind of hanging in there."
$848M in Revenue
San Diego County's independent craft brewers brought in $848 million in revenue in 2018, up 6% from the prior year, according to research from the guild and California State University San Marcos. In an August report, authors estimated the industry's total economic impact at $1.2 billion.
Total production in 2018 was 1.13 million barrels, up 3% from the prior year. The sector supported 6,480 jobs during the reporting period.
But the scene has shifted.
The expansive public spaces in San Diego County's breweries — which have welcomed millennials and Baby Boomers, singles and young families, and an assortment of dogs — can't welcome much of anybody since big gatherings were outlawed in mid-March.
"All we can do is sell closed containers to the public," said Jim Crute, owner of Lightning Brewery in the Poway Business Park.
Social Distancing
Anacleto, of the Brewers Guild, described tents set up next to San Diego roadways, where customers can pick up beer in what essentially is a drive-through arrangement.
Under new state law, businesses have to keep customers 6 feet away from one another. Crute said he's noticed that bank lobbies only let in a few people at once. People who come into his establishment are well separated, said Crute. "They don't linger here."
Lightning Brewery is taking it with a moderate amount of humor. It's advertising growler fills only during what it calls "social distancing hours." Growlers are reusable jugs holding multiple servings of beer or other alcoholic beverages.
Between customers, Crute cleans: swabbing the counter, wiping the keypad of the bank card reader. "You want to be a little safer than the grocery store."
Breweries may still make their products under state law. Reached during the morning of March 25, Crute said he was planning to put beer into kegs later. His one employee is working limited hours.
Crute left a career in pharmaceuticals and biotechnology for brewing (he has a doctorate in biochemistry and did postdoctoral work at Stanford University). He is not alone in pursuing a business that is also a personal passion.
"I'm trying to make it work during though times," he said.
Bistro Meals to Go
On the opposite end of the spectrum is Stone Brewing, which has grown to 1,100 employees since its founding in 1996. From a small North County brewery it has grown to more than a dozen venues, including several Stone Brewing World Bistro & Gardens locations, and tap rooms on several continents.
The business has not had to lay off employees, a spokeswoman said. The entire on-premise sales staff has shifted over to off-premise work to help with the increased customer demand and merchandising requirements of the grocery channel, the business said in a statement.
Though customers can't soak up the atmosphere at the bistro locations, they can still get food to go. Stone is dishing up food and DoorDash is delivering it. Beer, too.
Stone is using the opportunity to go for repeat business, offering $2 off future food purchases for every $10 spent.
Support for Other Workers
The Escondido business is also helping the community. Its bistro kitchen prepared 21 meals for quarantined firefighters on March 24. It was looking forward to preparing family meals for 25 members of the emergency room staff at Scripps Mercy Hospital later in the week, according to Lizzie Younkin, the business' senior public relations manager.
The company's trucking arm, Stone Distributing Co., has mobilized its network of craft beverage partners to donate meals to the busy staff at the region's Albertsons and Vons supermarkets.
As for the future?
In a statement, the business said it will be upgrading and modifying safety precautions "to reflect the up-to-the-moment thinking."
Longer term, executives are evaluating different scenarios. "We're taking it day by day," Younkin said.
Back at Booze Bros., Anacleto was getting the 3,000 cans into shape. Containers in this oversized production run will have special labels.
Perhaps the beer canned on March 25 will go down to be a collector's item in the post-2020 world.