Katherine Schwarzenegger Pratt's Conversation on Forgiveness Will Be in Virtual Venue
Sunday, March 29, 2020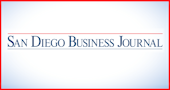 San Diego Women's Week will present a virtual conversation with author Katherine Schwarzenegger Pratt during a webinar set for April 1.
The discussion will run from 1 p.m. to 2 p.m. Pacific time. The event is free but registration is required.
The author will join Debra Rosen to explore themes from Schwarzenegger Pratt's new book, "The Gift of Forgiveness." Rosen is CEO of the North San Diego Business Chamber.
The discussion comes during what is a reflective time for many people.
In these unprecedented times, many of us are facing uncertainty and it is a good time to reflect on what is happening in our lives. Rosen and Schwarzenegger Pratt will discuss how people can incorporate forgiveness into their lives during challenging times.
Presenting partners for San Diego Woman's Week are Hologic, Littler, Sharp Health Plan, Teradata, the San Diego Zoo Safari Park, Oracle, Northrop Grumman, Sharp Rees-Stealy Medical Centers and Sony.