San Diego Company Buys Georgia and North Carolina Apartment Complexes
Thursday, March 26, 2020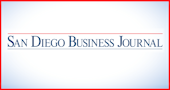 Strata Equity Group based in San Diego has acquired 13 apartment complexes in Georgia and North Carolina for more than $400 million.
The portfolio acquisition is comprised of more than 2,000 apartments in four Georgia communities and more than 1,150 apartments in three North Carolina submarkets.
"This portfolio is perfectly overlaid with our existing platform throughout the Southeastern United States," said Justin Shifrin, Strata's director of acquisitions. "These assets will deliver durable cash yields to our investors for years to come while pushing our holdings in excess of 20,000 units."
Built between 1995 and 2016, the 13 newly purchased properties will be renovated to improve amenities and interior apartment finishes, said Scott Wittman, Strata's chief investment officer.
"Once completed, these units will provide quality housing at attractive prices for the region's middle-income residents, a demographic that is severely challenged for quality housing options today," Wittman said.
Led by Carlos and David Michan, Strata Equity Group is a family-owned real estate investment and management company.
The company owns and manages more than $3.3 billion in real estate assets comprised of about 20,600 apartments, 400,000 square feet of commercial space and more than 18,000 acres of land.