Rebuilding Momentum
Wednesday, March 25, 2020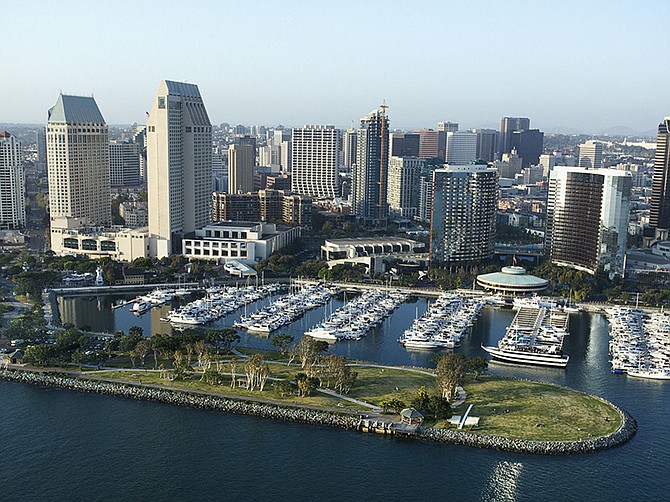 Despite increasingly strict restrictions over the COVID-19 virus, construction companies and many who follow the industry predict that any disruptions will be short-lived unlike what happened in the Great Recession..
Despite increasingly strict restrictions over the COVID-19 virus, construction companies and many who follow the industry predict that any disruptions will be short-lived unlike what happened in the Great Recession.
The industry will rebound quickly, they say, and few reported projects being cancelled although some were experiencing delays.
Leveling Out By May
"The impact of COVID-19 will worsen in the near term, but is likely to start to level out by May based on the experience of China and other countries in Asia," said Lynn Reaser, chief economist at the Fermanian Business & Economic Institute at Point Loma Nazarene University.
"Construction companies will see a downturn in new projects as companies may put projects on hold and the regulatory approvals slow," Reaser said. "The key will be to survive the next few months. The long-term trend of positive growth in San Diego is still intact."
Jim Roherty, president of Pacific Building Group, said most of those he works with are fairly optimistic.
"Talking with our owners and customers, I would say everyone believes pretty strongly in the economy and that this will pass and that we'll be back to business at some point in a couple of months, so we haven't had any projects get canceled," Roherty said. "We have certainly had projects that we've had owners say go home for a couple of weeks, take a week off, take a month off."
Brian Cahill, division president of Balfour Beatty in California, said that a small percentage of clients asked the company to shut down projects as the spread of the virus worsened.
Cahill said it was too soon for him to speculate on the full impact of the virus on his company, but once the pandemic ebbs, "everyone will be rushing to get back to work."
"What we're trying to do is focus on taking care of our employees to the best extent possible and keep the business moving," Cahill said.
Jeff Bingham, CEO of Bingham Construction Co., said none of his company's ongoing projects have been canceled because of the virus.
"A lot of the projects we're looking at in the near future, say two to three months from now, will get delayed," Bingham said, adding that he's not overly concerned for now.
Once the worse of the pandemic is over, "It's going to take a couple of months for things to get back up to the level they were before," Bingham said. "I think there will be a fairly rapid recovery because I think the stimulus package is in the works for the federal government and the state government."
Great Recession's Much Bigger Toll
Whatever slowdown comes, Bingham said it will be nowhere near as bad as the Great Recession.
"It took us about a good three to four years or so to really get to a productive level financially after the impact of 2008, 2009," Bingham said.
Similarly, Roherty of Pacific Builders said "There seems to be a level of confidence in where we are now, provided we get through this in reasonable period of time, that this will rebound."
The sense is that "work will get pushed off, then we're going to have a very busy second half of the year," Roherty said.
School Projects
West Reese, president of Barnham-Reese Construction, said his company could face a time crunch because his company has several school projects and the school closings will make it difficult to finish them on schedule.
"It's going to be much harder meeting our schedules. A lot of the projects have hard completion dates. We have a couple of school projects that are supposed to be finished in August," Reese said. "It could cost us a lot of overtime work, weekend work and extra hours. Those will have to be some hard discussions with our school districts."
Two Plans Needed
Reaser of the Fermanian Business & Economic Institute, said companies would do well to prepare two operating and financial plans, one for a short, sharp recession of about seven months which she said seems the more likely, and one for a longer downturn.
She also said companies should draw down revolving lines of credit.
"Cash on hand now is more valuable than a credit line," Reaser said.
The companies themselves were quick to adopt measures to slow the spread of the virus, from reminding workers to wear gloves and providing hand sanitizer on job sites and promoting social distancing.
"I've told everybody, if you feel any kind of a cold coming on or anything, we want you to stay home. Call in sick, no questions asked," Reese said.
In many cases, social distancing wasn't an issue.
"Guys who are on the typical construction job are not working close to each other and they're largely working outside, so their possibility of getting infected is far less than for folks working inside," said Alan Nevin, director of market research at Xpera Group.
Nevin said the construction industry is so strong in San Diego County that it can weather a short-term slowdown caused by COVID-19.
"We have an enormous amount of square footage that's already under construction, so you have a situation where your general contractors by and large are working a full capacity," Nevin said. "If in fact, they can put a lid on this in two or three months, I don't see much of a problem."
Costs to Come Down?
There may even be a bright spot to all of this, said Gary London, a real estate consultant.
"One upside of the current and prospective economic contraction is we're going to see a significant drop off in construction costs. That should have a catalytic effect on new development once the economic situation stabilizes," London said.
The push to work from home and avoid travel caused by the pandemic could push the construction industry to embrace the technology like video conferencing.
"This concept of working at home and online learning, now we're really going to put it to the test. A lot of businesses are going to realize that there are opportunities and economies associated with all this," London said.
Betsy Brennan, CEO of the Downtown San Diego Partnership, said that barring government orders to the contrary, she expects construction to continue on downtown projects that are already under way or that have financing in place.
"As long as the workers can do the work safely, those projects are moving ahead," Brennan said.
Longer term, Brennan said "It's so hard to predict with new information daily," adding that she and others at the Partnership started working from home March 18.w
"We're in the best position we've ever been in to allow for creative building and allow for new housing to be built and more housing projects, but I just can't say right now," Brennan said.