Nonprofit Adjusts Its Services to Meet Food Needs During Pandemic
Wednesday, March 25, 2020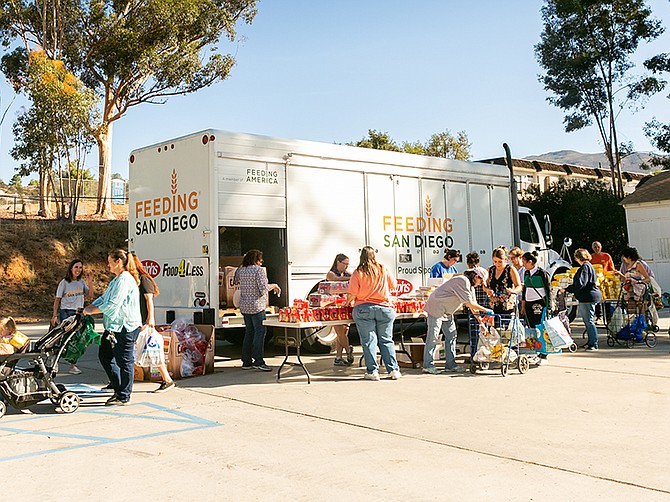 Feeding San Diego, a hunger relief and food rescue organization that provides over 26 million meals a year to families in need and secured $51.14 million in revenue in 2019, is expanding its reach in response to the coronavirus crisis.
As of last week, Feeding San Diego, which operates 100 food distribution sites across the county and rescues fruits and vegetables from 530 donors, has launched five COVID-19 emergency drive-thru centers around the city, with more to be announced, according to the organization. To help prevent the spread of the virus, Vince Hall, CEO of Feeding San Diego, said trained staff wearing protective gear will drop off food packages directly to cars via the trunk or passenger window to minimize contact.
"It has been a struggle in the last week to sustain our normal operation system because school sites are closed and other issues have arisen," said Hall, adding that Feeding San Diego typically distributes through the San Diego Unified School District, among other partners, which has closed all schools since March 16.
"In addition to serving one out of eight San Diegans that face food insecurity through our normal system, the significant economic dislocation has caused folks who have never dealt with hunger previously to now reach out for help… Many lack savings and economic resiliency and they are now facing hunger in our community. This is the population that has never accessed any form of food hunger relief before. We have the challenge of knowing if they know how to find us and how to distribute the food, because we can't have large numbers of people congregating."
Hall explained, those picking up food are not required to fill out forms or show any type of paperwork or credentials. As long as they need the help, he said, Feeding San Diego doesn't ask any questions and is happy to hand out rescued food that would otherwise be tossed. In fact, those picking up at the drive-thru stations don't need to exit their vehicles at all, said Hall, to protect both the distributor and those being distributed to.
"We are able to provide that food with less stigma and higher dignity," said Hall, adding that he encourages Feeding San Diego distribution partners, which include about 170 local charities and faith-based organizations like The Salvation Army and the Ronald McDonald House Charities of San Diego, to handle their operations in the same manner. "This food is on its way to the landfills if we don't have enough people ready to pick it up and put it to healthy use."
Another aspect of the Feeding San Diego system that is working to its benefit in the midst of the coronavirus pandemic is that less than half of the food distributed by the organization makes it to its Sorrento Valley warehouse, said Hall, for less chances of contamination and contact. Feeding San Diego operates a decentralized network of food rescue and distribution in the county from more than 530 locations, including 260 grocery stores, 200 Starbucks and 19 central prep kitchens operated by the San Diego Unified School District, he said, adding that the food is often distributed to families within hours of being rescued.
Keith Maddox, executive secretary and treasurer at San Diego & Imperial Counties Labor Council, said efforts like those of Feeding San Diego are imperative, especially in the days ahead.
"We are in a crisis," he said. "We have a global health crisis that is all over the news that we hear about, but it is much bigger than that... It is creating a job crisis, it is creating a people crisis and it is creating a food crisis. Workers are losing their jobs every day, they are losing their hours, they are losing their paychecks… People are being asked to stay home… But we also have to make sure we take care of those that are being impacted because this can become much bigger in a big way."
Feeding San Diego has been responding to hunger across the community for over a dozen years, providing over 26 million meals a year to one out of every eight families in need in the local community, said Hall. That rate is higher among children, he said, as one out of every six children is not sure where his next meal will come from. COVID-19 has created greater economic insecurity, which means greater food insecurity, said Hall.
To help spread the word on the drive-thru distribution sites, Feeding San Diego has added material to its website, FeedingSanDiego.org/coronavirus, with a clickable map that has all pertinent information listed. Feeding San Diego is also working with 211 San Diego, a resource and information hub that connects people with community, health and disaster services, to help keep San Diegans informed on its services.