SDBJ INSIDER
Tuesday, March 24, 2020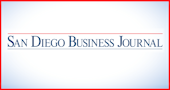 San Diego business organizations and local nonprofits are stepping up as the Coronavirus (COVID-19) has become a reality in the region. In this issue, we showcase the resources that have been dedicated to helping businesses and their employees deal with so many unknowns. From the San Diego Regional Economic Development Corporation (sandiegobusiness.org) to the San Diego Regional Chamber of Commerce (sdchamber.org), a lot of efforts are being made to assist and keep businesses abreast of the latest information. The EDC website features information on everything from updates on COVID-19 to guidance for local biotech companies working on vaccines. Text COSD COVID19 to 468-111 and you can sign up to receive real-time text message alerts from the EDC about COVID-19 in the San Diego region. The North San Diego Business Chamber (sdbusinesschamber.com) has even called its 800 plus members to offer assistance and information.Our special report by Joe Tash begins on page 7.
With such a fluid environment, we are also continuing to update our website sdbj.com with information and resource updates organizations are sharing with us as they become available. With so much effort and good work being put forth, the "community of business" has come together to support and assist as we all journey into this uncharted territory. If you have a resource or some information you want to get out to area businesses, send it to businessnews@sdbj.com and we will add it to the growing list on our website and include it in our daily e-news. To sign up for SDBJ's daily e-news, go to sdbj.com/enews-signup.
A couple other specific resources especially stand out. The San Diego Workforce Partnership (workforce.org) has put together a support telephone line for those companies considering work stoppages and layoffs -- 619-228-2982. They are also offering affected workers a webinar full of useful information and resources. The San Diego Employers Association (sdeahr.org) website includes information and a run-down on HR 6201 -- The Families First Coronavirus Response Act. This information can help employers understand the nature of the new federal law and how the much talked about tax credits would work.
In addition to those organizations that are directly helping with immediate needs, we need to remember our many nonprofits who depend so much on events and donations. Without fundraising events, these charities will be looking for unique ways to gain much needed support as they face increasing financial difficulties completing their various missions in our community. Check out our nonprofits directory on pages 10 and 11.
The Better Business Bureau has taken the lead in helping people make wise choices by creating a microsite for consumers and businesses that gives a great deal of information and advice on how to contribute to charities who may be addressing the outbreak (bbb.org/council/coronavirus). The Better Business Bureau Wise Giving Alliance has some great suggestions and tips for donors. They suggest that it is always best to consider experienced relief agencies. New organizations may have the best of intentions, but they face the greatest challenges. The Nonprofit Institute (sandiego.edu) has put together a reference guide called "5 Things Every Nonprofit Board Member Should Be Doing In Response To Recent Turmoil." Good information that we have reprinted on page 8.