Connect All Goes Virtual With Second Cohort
Monday, March 23, 2020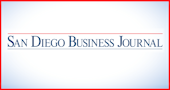 Connect All at the Jacobs Center, a city-funded accelerator is searching for its next round of entrepreneurs for its third cohort, applications close at the end of this month.
Founded in 2018, the San Diego-based accelerator stands out from traditional programs as its region's only business accelerator program focused on low to moderate income and diverse founders.
In particular, the accelerator focuses on underrepresented founders including veterans, women, African-Americans, Hispanic, and LGBTQ+ who are looking to scale their business.
Participating startups receive six-months of office space, experienced mentorship, workshops, and investment capital opportunities, which in turn help grow their businesses.
The accelerator is funded by a $2.5 million community development grant with help from Department of Housing and Urban Development, MUFG Union Bank N.A. and bkm OfficeWorks.
Per the funding, the accelerator is expected to create about 100 well-paying jobs for residents in low- to moderate-income areas. Though, the companies participating in the accelerator are not required to relocate to southeast San Diego.
Alex Waters, director of Connect All, said "Our focus is on building a sustainable business that then creates jobs. It's a different way to think about how you can use funding to help individuals build businesses, which then become economic drivers."
According to Backstage Capital, a venture capital fund that invests in companies led by underrepresented founders, less than 10 percent of U.S. venture capital deals go to women, minorities and LGTQ founders. A 2017 study by Mckinsey & Co. showed companies with more diverse executive teams were more likely to be more profitable than their peers.
In the past, participants included a drone company, a coffee shop, and a biotech, among others. To date, 25 companies have incubated in Connect All's program, including Alpha Fiber, Prenursing Smarter, and Gifting Made.
Going Virtual
Out of an abundance of caution around COVID-19 this past Monday, Connect All decided to temporarily close the business accelerator throughout the rest of March. Transitioning all scheduled workshops, office hours and cohort member collaborations to be held virtually.
"It's all really new. We decided to close temporarily to make sure everyone is healthy and safe. We've been very transparent about what's going on, how we can be of service to the entrepreneurs in the program," Waters said, "The way I look at it, we're in the innovation space, we work with businesses, if something happens — you have to adjust and pivot. And so this is just a way for us to maintain connectivity."
Connect All said it plans to still have the same types of interactions and workshops, the only difference is, people will working virtually from their homes or anywhere else they can access content online.
Cohort Success Stories
Entrepreneur, Arash Adami founded Alpha Fiber, a biotech startup that is working to provide a real-time solution for detecting potential concussion in athletes.
Adami, a scientist, said his company was only 2 years old at the time when he heard about Connect All.
"We wanted to develop a sound foundation for the company. We had two major goals, customer discovery and go-to-market strategy," Adami said, "Not only did these workshops help us understand our customers, but they were taught by diverse speakers. This really resonated well with the group."
Alpha Fiber plans to leverage cameras, artificial intelligence, and computer vision technologies. The company said its actively in talks to partner with a few organizations including the National Football League.
Founder, Kate Raiford launched Prenursing Smarter, an online Pre-nursing test prep tool for busy adults and students to better improve their exam results.
The idea for Raiford came while working with San Diego community colleges and repeatedly being tapped to work with first year pre-nursing students with their studies.
In business for about two years, she said she knew she had a product that could drive results, but wanted to create a more sustainable business.
"This program taps you into experts, mentors, and support of an entire ecosystem in the city of San Diego. It can take your business to the next level."
Her advice to entrepreneurs who are considering applying to Connect All; fill out an application. "Apply, there's nothing to lose and everything to gain, starting a business can be really lonely and there's lots of uncertainty," said Raiford.
Business owner, Evona Niewiadomska, founded Gifting Made which specializes in premium client gifting.
Gifting Made uses gifting as a strategic channel for businesses by offering custom apparel and swag for client and employee appreciation.
Niewiadomska said she joined Connect All's accelerator to get out of her bubble and find external accountability. She advised future cohorts to make the most out of their time in the program.
"You get out, what you put in it. There's going to be workshops, opportunities to get paired with a mentor, but if you're not proactively taking advantage and using the free workspace — you won't get out of it, what you could."
Application for Connect All closes on Mar. 30. Companies that are not quite ready for the accelerator can also make use of a business resource center at Connect All at the Jacobs Center.