World of Quantum Computing Keeps Qubitekk Occupied
Thursday, March 19, 2020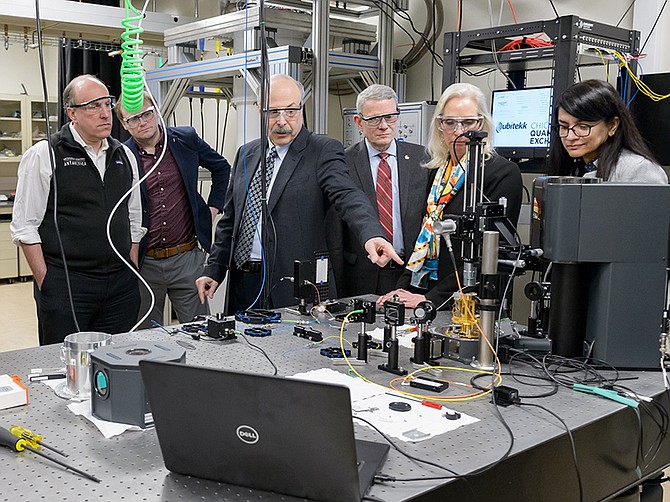 Qubitekk, the Vista company working in the nascent field of quantum computing, has had an eventful start to the year, passing multiple business and scientific milestones.
It took part in two exercises demonstrating its technology, pulled in a new source of federal funding and acquired the patent portfolio of another company.
The firm operates under the direction of Chief Technology Officer Duncan Earl, who spent 18 years at the U.S. Department of Energy's Oak Ridge National Laboratory.
Budget Proposal
The concept of quantum computing seems to be gaining traction in the federal government. In its fiscal 2021 budget proposal, the Trump administration called for doubling U.S. investment in quantum information science, putting it on a path to reach $230 million by 2022. The funds would be outside of the defense budget, according to a Feb. 11 announcement. The budget still needs congressional approval.
Funding includes $25 million for the Department of Energy to support early stage research for a quantum internet.
While conventional computers work with bits of 1 or 0, quantum computers work with bits that can be both 1 and 0 at the same time, Earl said in a 2014 interview. The phenomenon might produce massively parallel computers — computers that can process several problems simultaneously — and computers that can execute search-related problems very quickly.
The technology is reputedly a double-edged sword, able to crack conventional computer security quickly, and to withstand being cracked.
China is reputedly trying to develop capabilities in quantum computing.
An Entangled Tool
Qubitekk makes a device that can generate pairs of entangled photons, which are a starting point for all sorts of exotic engineering feats.
The business took part in an experiment involving entangled photons Feb. 11 in the Chicago area. Also taking part were the Department of Energy, Argonne National Laboratory and the University of Chicago.
In partnership with Qubitekk, the team created entangled photon pairs and distributed them across two 26-mile fiber loops.
Conditions Must Be Right
A press release from Argonne noted that conditions have to be just right for such an experiment to work. Quantum systems "are extremely sensitive to interference and to date have been mainly tested in clean, controlled lab environments."
In March, Qubitekk took part in a cybersecurity experiment at EPB, the electric utility in Chattanooga, Tennessee.
Separately, Qubitekk announced on Jan. 28 that it bought a patent portfolio from British defense contractor Quinetiq. The portfolio contains 57 patent filings in the field of quantum key distribution. Financial terms of the deal were not disclosed.
What's more, in December, Qubitekk received a small business innovative research grant from the U.S. Air Force. Under the deal, the Vista business will study quantum technology solutions for protecting Air Force depot networks.