Susan G. Komen San Diego's 'More Than Pink Annual Dinner' Goes Virtual
Thursday, March 19, 2020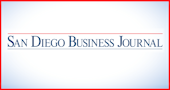 Susan G. Komen San Diego's annual More Than Pink Dinner goes virtual on Friday, May 29. In light of the COVID-19 pandemic, and to protect the breast cancer community, the event will bring the fundraiser online to people's homes this year. Proceeds will benefit immunocompromised and low-income breast cancer patients with food assistance, transportation, childcare, rent, utilities and treatment assistance.
The yearly event brings together over 350 attendees to celebrate 25 years of leading the fight against breast cancer in San Diego. Be the first to experience a virtual reception from the comforts of your home with a dazzling online auction, captivating entertainment, giveaways, and more surprises to be announced. Registration/Website: www.komensandiego.org/dinner.
The event will also honor individuals and organizations who have made a significant contribution in the fight against breast cancer over the past 25 years.
For additional information about the Virtual More Than Pink Annual Dinner click here. Sponsorships are available. For more information, contact Leia Brune at events@sdkomen.org or 858-573-2760 x 105.