North San Diego Business Chamber Addresses Assistance, Resources
Thursday, March 19, 2020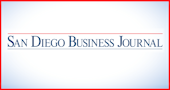 Debra Rosen, president and CEO of the North San Diego Business Chamber, issued the following statement recently:
With business closing, jobs lost and lives put on hold, it is our mission as a regional Chamber to provide you with as many resources as possible to begin moving forward in this new normal. Below, you will find resources for business, employees and communities that have been impacted by this unprecedented pandemic.
Resources
Small Business Administration Disaster Loan Assistance for Businesses, Private Nonprofits, Homeowners and Renters.- Click Here
Employment, Unemployment, Childcare, Reduced Work Hours, Tax Assistance and Health Resources. Per Gov. Newsom: California has waived the 1-week waiting period for those unemployed or disabled as a result of COVID-19 - Click Here
State Department Information for Employees and Employers - Click Here
Relief Fund for food service workers who have lost work. This fund applies to restaurant workers, delivery drivers, bartenders and anyone who receives tips. Click Here
Nutrition and Fitness Resources - Click Here
Small Business Development Center- Survival Guide for Small Business - Click Here
City of San Diego Business Relief and Support - Click Here
In closing, I want to assure you that the Chamber is open for business, every team member is available by phone and we are here to support you in any way possible.
Please work with us in reducing the amount of spread and stay home and take care of yourself and your family.
The Chamber will be announcing some good news next week. We will be able to come together but in a different way, networking once again with a glass of wine or a beer in hand.
Stay healthy and connected with us,
Debra Rosen
President and CEO