Former Customer Purchases Iconic Restaurant
Tuesday, March 17, 2020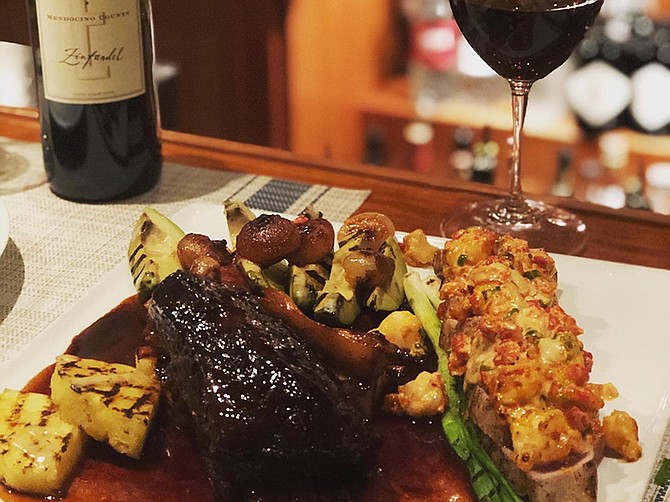 When the Vincent's on Grand restaurant went up for sale after its founder Vincent Grumel suddenly died of a heart attack in 2016, Jeannette McBrearty, a frequent customer of the French-focused downtown Escondido dining fixture, knew she wanted to step up and purchase it.
In November of last year, the mother of six paid $1 million out of her personal savings for it – $300,000 for the business, including the rights to all of Grumel's recipes, and $700,000 for the building – and officially became the proprietor. Now, renamed Hunsaker at Vincent's (after its longtime chef Brandon Hunsaker), the restaurant is projected to make $1.2 million in revenue by the end of 2020.
"Vincent's is an iconic restaurant in Escondido," said 47-year-old McBrearty, who always dreamed of owning her own restaurant and said she felt an emotional connection to the eatery. "You went there for anniversaries and birthday dinners and special occasions and celebratory things. My husband and I frequented the restaurant for date nights. So, when it was up for sale, when I had the ability to buy it, it was like, 'I don't want to see it go away.' I needed to keep it going."
McBrearty also wanted to breathe new life into the 1986-founded, 1996-renovated food place. So, at the end of last year, she took $75,000 and redesigned the interior of the 3,400 square foot location. She removed the old carpeting and dark wood panels and put up tin ceilings, crystal chandeliers and tiled floor throughout, she said. McBrearty also had a couple walls removed to open the space up, she said, and is featuring art by local artists on the inside of the venue.
While McBrearty has decided to keep all of Vincent's original classics on the menu, the restaurant's concept has shifted a bit, she said, from French cuisine to food with French roots but with an American twist. Now open for lunch and dinner, Hunsaker at Vincent's, which seats 49 people in the dining room and 10 at the bar, will also launch a craft cocktail program spearheaded by a mixologist, as well as host pop-up dinners with guest chefs, wine tasting dinners and a new brunch program.
"I wanted to open for lunch and ramp up the bar and do a lot of renovations inside, making it more modern (and) freshening it up," said McBrearty, who worked in mortgage banking prior and has always enjoyed cooking at home. She said, originally, Hunsaker was going to stay long enough to train a new person, but, once the two got to know each other, they decided he'd stay on board and become the concept's executive chef.
"Without him, I was starting from scratch," she said. "With him, we are building something together… Brandon (Hunsaker) knowing all of (Vincent Grumel's) recipes makes the current loyal clientele happy. But I'm also giving him the ability to incorporate other world cuisines into his recipes and showcase his talent on top of the French training he learned from Vincent."
In honor of Grumel's vision, McBrearty will keep the catering arm of the restaurant going. Now a separate business called Private Hire, which will officially open for business later this month and will run out of Hunsaker at Vincent's, she said it has already done a couple of private events. Down the line, McBrearty said she also hopes to rent out Hunsaker at Vincent's for birthday parties and other occasions.