San Diego North EDC Compiles Coronavirus Response Resources for Business
Monday, March 16, 2020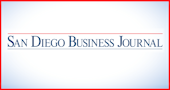 The San Diego North Economic Development Council issued the following newsletter Monday. It is reprinted here. Much of the information can help businesses countywide. A few of the resources are specific to North County businesses only.
SDNEDC's mission is to help increase North County prosperity for all its residents. The current months are going to put tremendous strain on our region but remember, North County's economy is highly diversified, has a workforce that is extremely talented and experienced, and an underlying set of supporting organizations that will help our region rapidly recover after the crisis passes.
Starting today we will be publishing this email every Monday, Wednesday and Friday. We will be providing as much information about programs and initiatives to help North County businesses. New information will be marked as such. If you know of information that you feel would be helpful to North County businesses and workers please send it to ebruvold@sdnedc.org with the subject heading "COVID-19 Resource." Collaboration in this region is an asset recognized around the world and it is going to be a key reason why San Diego emerges stronger than ever.
The County of San Diego has compiled data on how businesses can help fight the disease and links to guidance from the CDC. You can find that letter at this link and we will be updating that link as new information becomes available.
The U.S. Small Business Administration has announced a several billion dollar program to help small businesses deal with the crisis. You can find out general SBA information at this link and about the disaster relief program here. The SBA disaster assistance customer service center can be reached at 1-800-659-2955 or e-mailed disastercustomerservice@sba.gov. Locally, the SBA's office in San Diego can be reached at 619-557-7250 and their website found here.
You should be aware of options your employees may have in respect to making an unemployment or disability claim if their work hours and compensation are impacted by Covid-19. Our best information at this time is that the state is waiving its usual one-week waiting period. You can access information at the EDD website.
Procopio is holding a free webinar on Thursday to answer several key questions as it pertains to employment law and Covid-19. You can sign up for this free webinar here.
Littler has reviewed the legislation passed by the House late last week. Their review can be found here. The Senate is projected to act Monday and Tuesday and largely follow the House's lead.
Each North County city has an economic development manager or director available to assist you. Their contact information can be found here. The Innovate78 collaborative also has a blog you can see here.
SDNEDC is EXTREMELY proud and honored to have as an investor and partner the North County Food Bank. You can follow this link to see what they are doing. We would urge that, if you can, to consider a donation. This crisis is going to hit particularly hard those that are food insecure and the Food Bank is one of the greatest non-profits we have ever had the pleasure of working with. They have seen also rapid drop off in volunteers and that workforce is critical to their ability to deliver food to our most vulnerable citizens. They are set up to allow for volunteers to practice social distancing.
We hope to have more information by Wednesday about the federal action on paid sick and family leave for your employees. For now we would urge, if possible, to provide this benefit to employees so that we continue to encourage social distancing.

Erik Bruvold and Jacqueline Colarusso