n-Lorem Foundation Lands $500,000 for Rare Disease Work
Monday, March 16, 2020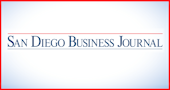 The n-Lorem Foundation — a Carlsbad nonprofit that formed to supply individualized therapies free of charge to patients with ultra-rare genetic diseases — has received a $500,000 pledge.
That came from Mark Lampert, founder and general partner of BVP Partners, a San Francisco biotech investment firm. The company manages the Biotech Value Fund, among others.
In January, the foundation launched to create custom-made drugs, an area that biotechs shy away from because the economics don't pencil out. Stanley Crooke, the executive chairman of Ionis Pharmaceuticals in Carlsbad, helms the foundation.
"I'm proud to support the n-Lorem Foundation and their efforts to combine advanced genomic diagnostics with antisense technology to charitably meet the therapeutic needs of patients who suffer from extremely rare genetic diseases," Lampert said in a news release.
The foundation started with $4 million, including $1.5 million from Crooke and his wife, Ionis researcher Rosanne Crooke, $1.5 million from Ionis and $1 million from Biogen, a pharmaceutical that has partnered with Ionis.