Hotel Firm Counting On Spreckels' Character
Monday, March 16, 2020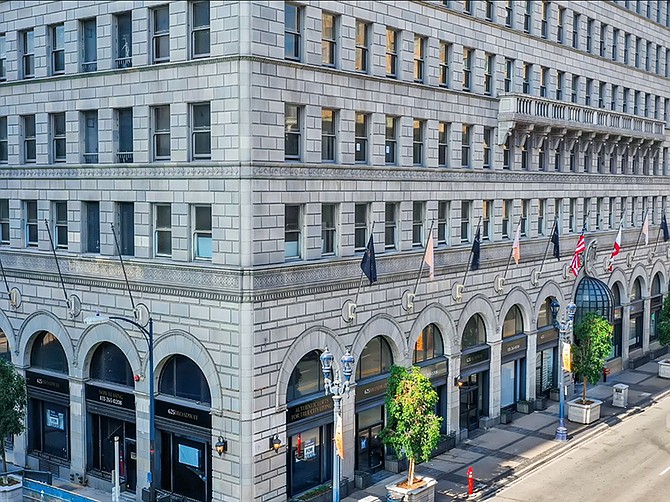 A New York hotel firm — Domio — has leased the historic John D. Spreckels building in downtown San Diego to run as an apartment hotel.
Completed in 1927 as a bank, the 14-story building at 625 Broadway will be the flagship of Domio, a hotel firm that grew from a small bed-and-breakfast operation in New York City said its founder and CEO, Jay Roberts.
The building was extensively renovated in 2019 by Hammer Ventures to turn the former bank into an apartment/hotel complex with 231 rooms totaling 165,000 square feet with 33,000 square feet of ground floor retail.
Hammer Ventures and Westbrook Partners sold the building in February to Cain International and Balthus Capital. The sale price was $143 million, according to CoStar, a real estate research firm.
10 Year Lease
Domio has signed a 10-year lease on the building with its new owners.
Roberts, a former investment banker, said he formed Domio about 3½ years ago after running a bed and breakfast in a spare room of his New York apartment.
"I changed the sheets. I carried people's luggage up and down the staircase, running out during the day during my day job," Roberts said.
The bed and breakfast venture proved so profitable that he expanded it beyond his own apartment to include rooms in 10 cities, Roberts said, adding that "now we're opening and operating buildings like 625 Broadway.
He said Domio also has three other hotels — the 92-room Domio Baronne Street in New Orleans opened in December 2019, the 170-room Domio Wynwood in Miami opened in January 2020, and the 170-room Domio Magnificent Mile in Chicago opened in October 2019.
Although Hammer Ventures did extensive construction work in renovating the Spreckels Building, Roberts said the individual rooms were left largely unfinished except for a few models.
No Construction
"We're not doing any construction work," Roberts said, but he said Domio is bringing in the furnishings and decorating the rooms "to have a very airy, surf San Diego vibe."
A native of Orange County, Roberts said his family often visited San Diego when he was a child.
"We would go to the Padres games, the Chargers games. We'd go to Pacific Beach," Roberts said. "I really loved the welcoming nature of the people of San Diego and the culture."
Roberts said he was attracted to the Spreckels building because of its location at the edge of the Gaslamp Quarter.
'An Affordable Price'
The Domio Gaslamp as he's named the hotel will offer travelers and families rooms that are larger than in most hotels and at what he said would be "an affordable price," ranging roughly from $220 to $250 per night.
Averaging 700 square feet, rooms can be rented by the night or for up to three months at a time, Roberts said.
The hotel has a fitness center with a yoga studio, a club house, bar and game room and a catering kitchen.